The Show Must Go On: Truman Theatre Gets Creative for Performances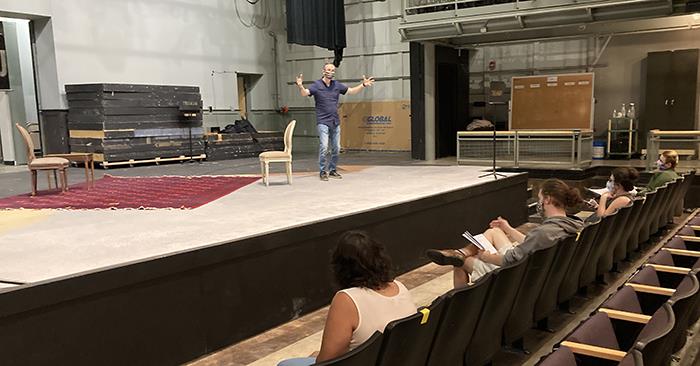 Truman Theatre students observe enhanced safety measures while preparing for the first production of the season. "A Doll's House, Part 2" will be performed on the quad nightly at 7:30 p.m. Sept. 23-26.
Every year, Truman Theatre strives to produce a slate of performances filled with passion and honesty. That is still the goal for the 2020-21 schedule, even in the face of a global pandemic.
"Many norms in the Truman Theatre Department have been changed, either slightly or entirely, to make sure that our shows are happening safely," said David Charles Goyette, Theatre Department chair.
Truman Theatre is choosing to make the most of the coming season and view it as full of opportunity rather than difficulties. The first production of the season will take place on the quad and be performed in the round, with audiences on all sides. In addition to providing a unique experience for current students, it harkens back to days of old. When the quad included a lake, it served as a setting for several opera performances, including a production of the "
H.M.S. Pinafore
."
Although the production will take place outdoors, audience members will be seated socially distant from one another and will be expected to wear face coverings. That same approach to safety applies to the cast and crew. Truman Theatre has altered its production so performers maintain a distance of six feet at all times. They are also utilizing Zoom in place of in-person meetings, and incorporating digital forms whenever possible to minimize the need for paper to change hands. Sanitation kits are also placed in all theatre spaces.
"Putting on a production with all of the appropriate safety measures is full of challenges, but we are facing them as a department, and as a team," Goyette said.
The first performance of the 2020-21 season will be "A Doll's House, Part 2" by Lucas Hnath. Performances will take place nightly at 7:30 p.m. Sept. 23-26. Tickets will be available starting Sept. 14. They can be purchased at the box office in Ophelia Parrish from 11:30 a.m.-5:30 p.m. Monday through Friday, or by calling 660.785.4515.
While Truman Theatre is taking an old-school approach to its first production, the second of the season fully embraces technology and will be an entirely digital production. "Ghosts in the Machine," by Eric Cable, will be streamed Nov. 11-14. More information about purchasing tickets will be available closer to the performance.
"Both of our productions for the fall 2020 semester are being delivered through means that are entirely new to this generation of Truman Theatre, and are being taken on as exciting, new challenges," Goyette said.
Details regarding the spring semester have yet to be finalized. The first production will be determined later this semester. A student-directed lab show will also be chosen later in the semester by a board of student representatives. A production of "The Little Prince" adapted from Antoine de Saint-Exupery and directed by Dana Smith is also scheduled for the spring.
Goyette hopes Truman Theatre will be back to using its regular facilities in the spring, but said they will be exploring streaming shows and other methods of delivery in case that is not possible.