CML Film Festival Expands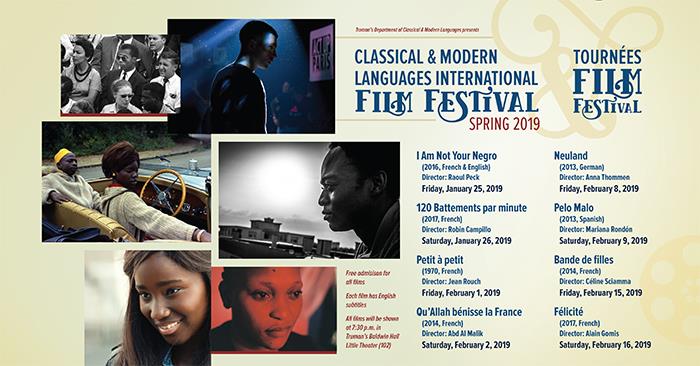 Truman Department of Classical and Modern Languages' (CML) annual film festival will show its next movie at 7:30 p.m. Feb. 1 in Baldwin Hall Little Theatre.
One movie will be shown each Friday and Saturday for the next four weekends until Feb. 16. The festival is featuring films that discuss the topics of race and diversity.
The number of films being shown this year has been expanded to eight, thanks to a grant awarded to Truman CML from the Tournées Film Festival, which is an artistic fund supported by the FACE foundation (French-American Culture Exhange). This year six French-language films – "I am not your negro," "Bande de filles," "Félicité," "120 BPM," "Qu'Allah bénisse la France" and "Petit á petit" – will be shown along with one German-language film, "Neuland," and one Spanish-language film, "Pelo-Malo".
The festival is a free event and is open to all members of the public.
For more information about the film festival please contact
Audrey Viguier
.