Gallery to Feature Microscopic Art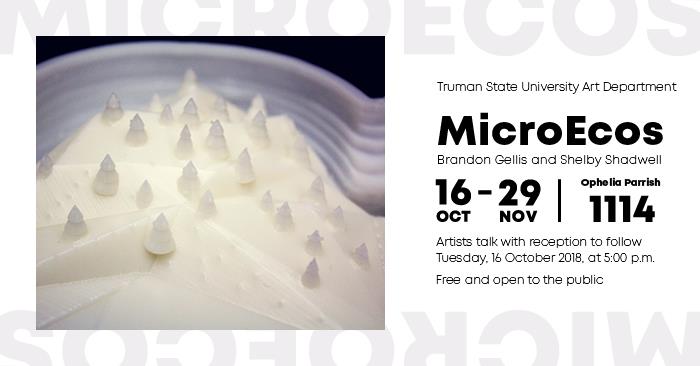 The Art Department is sponsoring featured artists
Brandon Gellis
and
Shelby Shadwell
at the MicroEcos Exhibition at 5 p.m. Oct. 16 in the University Art Gallery.
Gellis and Shadwell will discuss their collaborative project that brings together 3D and 2D work that uses microscopic, preserved pollen to create artistic reconstructions of the early-terrestrial ecosystems of Wyoming.
Using 3D modeling and printing, Gellis's work visually explores complex interactions between human and biological systems, allowing audiences to better visualize human impact on the landscape, species and Earth's diverse ecosystems. Shadwell's large-scale monochromatic drawings, which play with the border between representation and abstraction, magnify the form of microscopic pollen to immense scale projecting their ability to recreate prehistoric landscapes. Gellis is an assistant professor of graphic design at University of Wyoming and Shadwell is an associate professor of drawing at University of Wyoming.
The event is free and open to the public. A reception will follow the event.