Updated Virtual Tour Available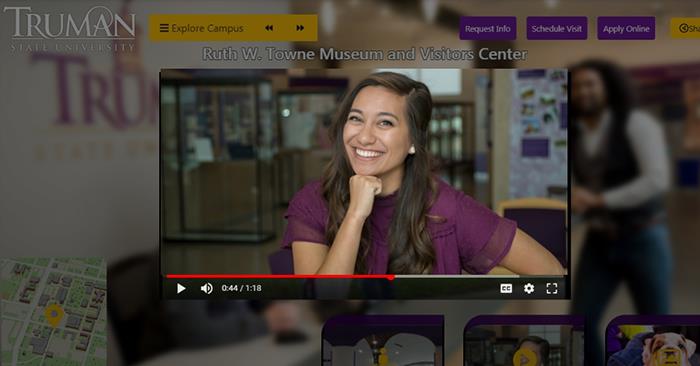 Truman has launched an updated virtual tour of campus at
tour.truman.edu
.
Prospective students, alumni and friends of the University are encouraged to explore the guided virtual tour of Truman's campus. A series of videos by current students, faculty and staff lead the visitor through a guided tour of the University, showcasing different elements of the campus and community on each stop. The narrations are coupled with photographs showing activities that students engage in at each location and 360-degree photographs of the spaces.
In addition to the tour, visitors can find buttons to share tour stops on social media and request further information about the University.
The updated tour was developed entirely in-house, which saves the University money and creates content that is more unique and relevant to Truman, as opposed to other schools that may outsource their work. Anyone with feedback regarding the tour can email
webmaster@truman.edu
.
The Office of Admission and the Public Relations Office would like the following people who provided their time to assist in the launch of this project.
Shari Fieser
, Ruth W. Towne Museum and Visitors Center
Janes Dreamweaver
, Student Recreation Center
Marina Fanning
, McClain Hall
Randy Bame
, Baldwin Hall
Maha Mohammad
, Diversity and Inclusion
Camila Leiva
, International Education
Ally Holloway
, Ophelia Parrish
Zac Burden
, Residence Halls
AJ DeVecchi
, Campus Dining
Ted Frushour
, Kirk Building
Dan Borelli
, Quad
Mae Kinkade
, Pickler Memorial Library
Ray Stewart
, Student Union
Dave Lusk
, Internship and Career Preparation
Jack Carnduff
, Magruder Hall
Alice Davis
, McKinney Center
Remy McClain
, Violette Hall
Bhavana Yerragunta
, Pershing Building
Emily Alves
, Health Sciences
Kayla Carroll-Seuferling,
Barnett Hall
Bobby Campbell
, Athletics
Morgan Britnell
, University Farm
Monica Hunter
, Kirksville Community
Greg Marshall
, Web Development
Richie Howell
, Video Production
Ryan Ball
, Video Production
Tim Barcus
, Video Production