Oboe, Clarinet and Piano Performers Collaborate for Recital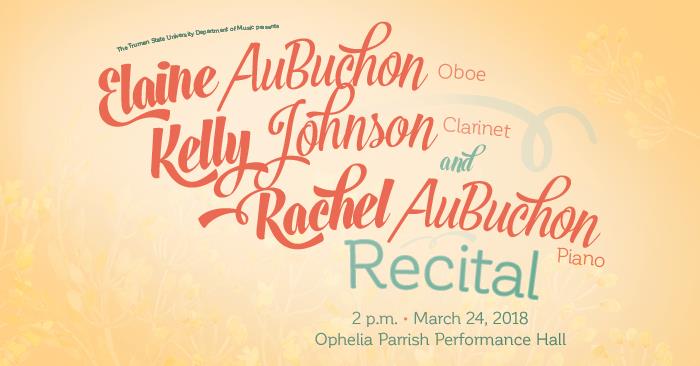 Elaine AuBuchon, Kelly Johnson and Rachel AuBuchon will take the stage in a faculty recital at 2 p.m. March 24 in the Ophelia Parrish Performance Hall.
Elaine AuBuchon teaches the oboe and bassoon studios, woodwind methods and perspectives in music at Truman. She received a Bachelor of Music and a Bachelor of Science in Education at the University of Missouri-Columbia, and then moved to the Chicago area where she graduated with a Master of Music from Northwestern University. AuBuchon has been the principal oboist of the Elmhurst Symphony, the Waukesha Symphony and the Missouri Chamber Orchestra, as well as the English Hornist with the Quad City Symphony. She has also performed with the New World Symphony and various other professional orchestras and chamber groups in the Chicago area.
Johnson is principal clarinetist with the Arkansas Symphony Orchestra and associate professor of clarinet at the University of Central Arkansas. She has been a soloist at several International clarinet conventions including the 2007 International Clarinet Convention in Vancouver, Canada, the 2005 International Clarinet Association Convention in Tokyo, Japan, and the 1998 International Clarinet Association Convention in Ohio. She also performed at the 1999 International Clarinet Association Convention in Belgium where she released her solo CD titled "Clarinet Unlimited," which features the clarinet works of Belgian composer Norbert Goddaer. Johnson's new CD project, "Child's Play: Stories, Songs and Dances," will be released later this year. Johnson received her Master of Music degree in Clarinet Performance from Arizona State University. Selected as Outstanding Graduate Performance Student in 1994, she completed the Doctor of Musical Arts degree in clarinet performance from ASU in 1999.
Rachel AuBuchon devotes much of her time to collaborating with instrumentalists and vocalists, finding an unusual balance between lieder and saxophone literature. Past performance venues have included the 2014 North American Saxophone Conference and the 2011 Navy Symposium with Trio Chymera, and the 2012 World Saxophone Congress with Leo Saguiguit. An avid supporter of new music, AuBuchon participated in the International Composers Festival in Columbia, Mo., in 2012 and 2013. Her love of vocal literature led her to participate in the CoOPERAtive program in Princeton, N.J. in 2013 and serve as a staff accompanist for the national NATS conference in 2015 and 2016. AuBuchon graduated with a Bachelor of Music degree in piano performance from Truman and an Master of Music in accompanying at the University of Missouri. She served on the faculty of Stephens College from 2006-2011 and on the accompanying staff of University of Missouri from 2006-2014. She is currently pursuing her DMA at the University of North Carolina at Greensboro as she joins the staff at Truman.
The recital is free and open to the public.