Career Prep Continues with Tesla Internship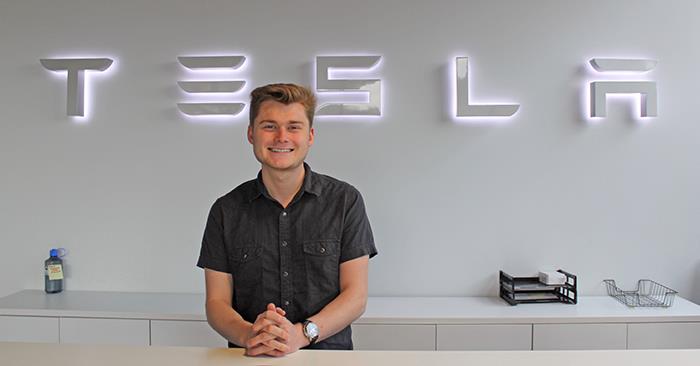 Stephen Cutler is a firm believer in the concept that opportunity is where luck and preparation meet. Throughout his time at Truman, he has done his part to make sure he is prepared. A business administration major with concentrations in marketing and management, his love for anything with an engine has him planning for a career in the automotive or aerospace industry, and he has already completed multiple internships, including two with Boeing. Cutler is certainly prepared, and while scrolling through LinkedIn during his lunch break last fall, he was lucky enough to see a posting for a dream position. Within two weeks he received the opportunity of his lifetime – an eight-month internship offer at Tesla.
Based in Palo Alto, Calif., Tesla specializes in electric vehicles, energy storage and solar panel manufacturing. In its relatively short existence, it has already become synonymous with innovation, and years from now, future generations might credit the company's rise with the golden age of energy sustainability.
"Tesla's mission is to advance the world's transition to sustainable energy. The prospect of contributing to this mission really inspired me to pursue an opportunity with Tesla. Knowing that your work is helping shape the future makes getting out of bed in the morning something you look forward to when you go to sleep at night," Cutler said. "I'm also a huge car enthusiast, so Tesla has obviously been a personal interest for years now considering they make the fastest, safest and most technologically-advanced vehicles in the world."
Since January, Cutler has been working as a purchasing intern within a team of global supply managers supporting four different Tesla vehicles. His days do not consist of coffee runs and copies. Some of his responsibilities include managing cost reduction initiatives, negotiating pricing with current suppliers and managing change control initiatives between the engineering/design teams and their suppliers.
"The expectation here is a lot higher than other internships I've had," Cutler said. "I have been given a huge amount of responsibility to just get work done. It's a very sink-or-swim environment and 'I'm just an intern' isn't an excuse. It's empowering and challenging."
Whatever obstacles might pop up during his internship, Cutler will certainly be ready to meet them, and it will not be the first time he has faced adversity from Tesla. In 2016, he made it to the final round of interviews for an internship with the company before learning he would not receive an offer. Rather than being satisfied with making it further in the process than thousands of other applicants, Cutler took it as a sign to bolster his credentials and try again. Following his second internship with Boeing, a six-month stint in Long Beach, Calif., he was better suited to apply for and receive his current position.
"Not receiving an offer the first time I applied for this internship was extremely discouraging considering I put so much of my heart into it, but it taught me invaluable lessons in the importance of humility and the value of resilience," Cutler said. "My opportunity to intern with Tesla came from the happenstance of me seeing the right LinkedIn post at the right time and from the steps I took to make myself a more competitive candidate."
With all the work experience he has already accumulated, it can be easy to forget Cutler is still a student. The O'Fallon, Mo., native is on track to graduate in December 2018, and his future seems full of possibilities.
"My overarching career goal has always been to challenge and advance myself as much as possible," Cutler said. "I keep this goal relatively vague intentionally because you never know how your next growth opportunity may manifest itself."