Celebrating 150: The Baldwin Fire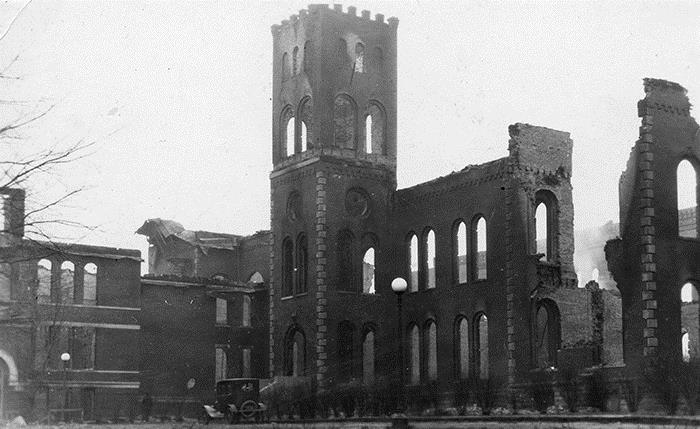 The ruins of Old Baldwin Hall after it was destroyed by fire. Photo courtesy of the Pickler Memorial Library Special Collections Department.
Jan. 28, 1924 is a date that will live in infamy in Truman's history. Old Baldwin Hall, the 51-year-old centerpiece of campus, was destroyed by fire, along with the Library Building.
President John R. Kirk discovered the fire at about 3:30 p.m. Classes were in session when he found the east wing of the third floor of Baldwin Hall in flames. The blaze, which apparently began in the Senior Literary Society room just east of the central tower, spread with such rapidity that it engulfed the entire building and moved through the connecting corridor to Library Hall next door. By 10:30 p.m. that evening, both buildings were gone.
As members of the student body learned about the fire, many actually entered the buildings in an effort to save as many materials as possible. Eyewitnesses even reported seeing students throw books from the upper floors down on to sheets held by other students on the ground. Despite their valiant efforts, an estimated 40,000 volumes were lost in the fire.
The fire physically changed the landscape of campus. The lake that was located in front of Old Baldwin Hall was emptied in an attempt to put out the blaze. It was later filled in with the rubble from the building and is now the area known as the Quad. Baldwin Hall would not be replaced for another 14 years when the current version was completed. The basement of the Old Baldwin Hall became the Sunken Garden, while Kirk Memorial was constructed where the tower of the building was located.
Pauline Dingle Knobbs, a student from Palmyra, Mo., was in class when the fire started. Fifty-two years later, she recorded her memories of that day for the Adair County Bicentennial Committee's oral history project. Click
here
for her account of the fire. [Note: she reported an incorrect date for the fire in her narrative, and the artist was Archie Musick, not Charles Henry.]