Exhibit Showcases Satirical and Political Art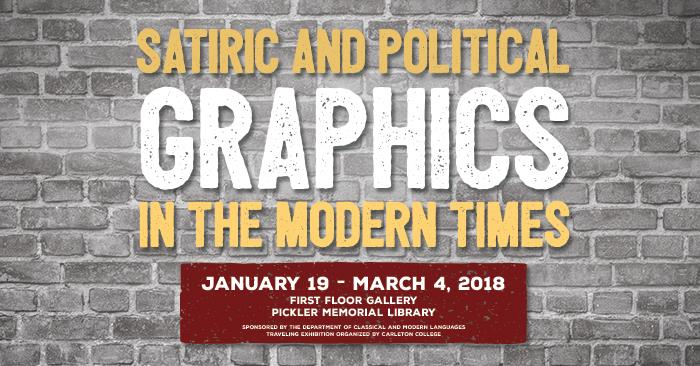 The traveling exhibit, "Satiric and Political Graphics in the Modern Times," is on display and open to the public through March 4 in the first floor gallery of Pickler Memorial Library.
The intention of this small exhibit is to provide a brief overview of graphic art throughout history that, with the use of satire and visual power, has exposed the fundamental contradictions and nonsense that define modern society. Nevertheless, the cultivators of this discipline are so numerous and renowned that it is frankly difficult to include them all. For this exhibit, a select number of prominent artists were chosen whose work best represent the diverse styles of graphic art across the different political and historical eras. In this manner, it is possible to follow the evolution of this visual genre from its beginnings in the 18th century, first linked to the field of pictorial art and the rise of written press, and later in the 20th century, continuing into the 21st century.
"Satiric and Political Graphics in the Modern Times" is organized and provided by Carleton College. The Truman exhibit is sponsored by the Department of Classical and Modern Languages in partnership with Pickler Memorial Library.