Kohlenberg Lyceum Series Presents "Amahl and the Night Visitors"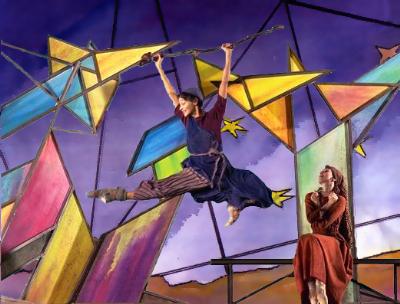 "Amahl and the Night Visitors"
Dancers Sally Rousse and Penelope Freeh

The 2006-2007 season of Truman's Kohlenberg Lyceum Series is proud to present "Amahl and the Night Visitors," a ballet performance by the James Sewell Ballet, at 7:30 p.m. Dec. 12 in Baldwin Auditorium.
"Amahl and the Night Visitors" is a one-act opera by Gian Carlo Menotti, originally performed for television in 1951. The play follows the life of a crippled boy named Amahl and his mother who live in poverty among the shepherds. Amahl and his mother are visited by the Three Kings who are on their way to Bethlehem to visit the baby Jesus. Amahl's life is forever changed because of their visit.
The visual-spatial movements of American Sign Language (ASL) are incorporated into the performance as part of the choreography, along with classical ballet, to illustrate this story.
By using ASL and several other movement styles to provide a movement vocabulary for the performers' hands, the James Sewell Ballet dramatizes the story to bring it to life in this unique ballet performance.
A limited number of tickets for "Amahl and the Night Visitors" will be available beginning Dec. 5. Seating is general admission. Admission is free for students, faculty and staff with their University ID. Students may pick up tickets at the Student Activities Board Office, third floor of the Student Union Building. Faculty and staff may pick up tickets at the Center for Student Involvement, lower level of the Student Union Building.
The University requests that all patrons be seated five minutes prior to the performance. The University reserves the right to fill all seats, reserved and general admission, five minutes before the time of performance stated on the ticket. No refunds will be given.
Contact the Public Relations Office at 785.4016 for more information.