Professor Seeks Ceramic Dishes, Pots and Cups for JINS Course Next Semester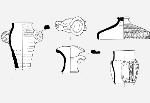 Drawings by Julia Jarrett show pottery from an excavation site in Egypt.

Sara Orel, associate professor of art, is looking for your help putting together an assignment for her JINS class next semester. The class is Cultural Crossroads: Cairo and she is hoping to provide students with an opportunity to experience one of the things that archaeologists in Egypt do with great regularity - sorting pottery and developing a typology that allows scholars to get an idea of trade connections, eating habits, and cooking techniques.
She asks all faculty and staff to keep an eye open for ceramic dishes, flower pots, cups, etc., that they either want to get rid of or ones that are broken already and which will go to a good (but not a functional) use. If you have any of these or just random sherds of pottery floating around your house, or office, please drop them off at her office (OP 2221) or at the Division of Fine Arts mailroom. She is hoping to get a wide variety of types. She already has a couple of coffee mugs, so standard coffee mugs are probably not needed in great quantities, but she would love teacups, and porcelain mugs, for example. She would even like to have used flower pots. Of course, rinsing off the dirt before sending them to Orel would be much appreciated.
Contact Orel at 785.4419 or via e-mail
orel@truman.edu
with any questions.