Bulldog Investment Fund Hits it Big at National Conference
The Bulldog Student Investment Fund's student-managed portfolio won an award at the world's largest student investment conference the week of March 23 in Detroit.
ENGAGE International Investment Education Symposium allows students to hear insights about the financial markets and economic environment from some of the industry's top professionals. This includes Dennis Lockhart, president of the Federal Reserve Bank, and top management from many leading investment institutions.
Panel discussions were moderated by an array of CNBC hosts and contributors, and participants had the opportunity to watch CNBC's "Fast Money Halftime Report" broadcast live from the conference.
The Bulldog Student Investment Fund won first place within the value style of management category based on the portfolio's 12-month risk-adjusted return for 2014. As a relatively new organization, this represents a major accomplishment for the fund, whose members have all worked hard over the past four years to set a strong foundation upon which such a successful portfolio is able to develop. Currently, the fund manages more than $50,000 within the equities market, and its 30 members all play a vital role in the selection, allocation and daily management of each of its 25 holdings.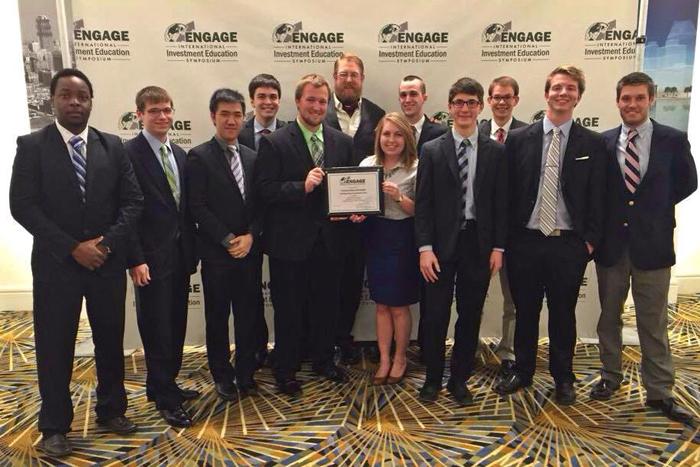 Representatives from the Bulldog Investment Fund display the value style award given to their portfolio at the ENGAGE International Investment Education Symposium the week of March 23. Pictured, first row, left to right: David Shoko, David Newell, Dominic Zi Teoh, Colby Bycroft, Candice Bobbitt, Philip Eckert, Michael Fentress and David Stodden. Back row, left to right: Shane Legatzke, Andrew Roby, Conlan Wilson and Lasse Fuss