Outstanding Senior Student-Athletes Named For 2013-14
A trio of Bulldogs were recognized as the Outstanding Senior Student-Athletes by the Truman Athletics Department following the 2013-14 school year.
Kelsey Bollman (softball), Casey Jepsen (women's swimming) and Mike Carlson (men's basketball) are this year's recipients.
Bollman became a four-time all-conference player for the Bulldogs earning her second consecutive first-team honor this season under the GLVC banner. The Maquoketa, Iowa-native hit .361 during the season, finishing with a league-best 69 hits while adding 12 doubles, six home runs and 37 RBIs. She stole 11 bases and started all 56 games in the Bulldog outfield. Bollman finished her Truman career being listed in the top five of several softball offensive stat categories. She broke the school record with 58 career doubles and placed fourth in runs scored (140), hits (233), home runs (22) and RBIs (124) in her 200 games played. Bollman and the Bulldogs finished the 2014 season with 43-13 record and made their first trip in nine years to the NCAA national tournament.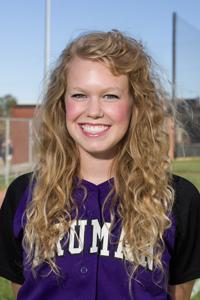 Kelsey Bollman
Jepsen earned three All-America honors this past March and capped off her Bulldog career with a total of nine All-America certificates. She finished 10th nationally in the 200 freestyle and was 11th in the 500 free. Jepsen had a runner-up finish at the GLVC championships in the 200 and was third in the 100 while helping the Bulldogs to a second place finish in the overall conference standings. Jepsen was the Northern Sun Intercollegiate Conference Swimmer of the Year as a junior as the team finished second in that league's meet. Jepsen was a three-time member of the Mid-America Intercollegiate Athletics Association Commissioner's Academic Honor Roll, twice named All-Academic New South Intercollegiate Swim Conference and most recently earned Capital One Academic All-District honors through the College Sports Information Directors of America.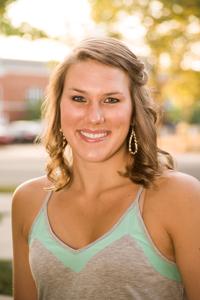 Casey Jepsen
Carlson was named the sixth All-American in program history named to both the National Association of Basketball Coaches (NABC) and Daktronics All-American teams. Carlson also earned Great Lakes Valley Conference co-Player of the Year honors while leading the men to a 20-7 overall record and a 13-5 GLVC mark. Carlson averaged 21.3 points and 7.2 rebounds per game as a senior and shot 54.4 percent from the floor. He scored 575 points this season, marking the second-highest single-season total in Truman history, and finished his three seasons as a Bulldog ranked eighth in career points with 1,326 total in 82 career games (16.2 per game). Carlson scored a career- and program- single-game high 48 points against Missouri S&T on Jan. 30, 2014.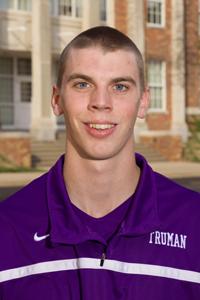 Mike Carlson
The Dean of Student Affairs Office also recognized the top male and female senior student-athletes with the highest cumulative grade-point average with the Scholar Student-Athlete Award. Those recipients were Nicole Gloor from women's basketball and Andrew Sheets from men's cross country/track and field.
Gloor amassed more than 1,000 career points and a 3.97 GPA while majoring in exercise science. She was a vital part in helping the team to the GLVC tournament championship and was named to the all-tournament team.
Sheets had a perfect 4.0 GPA majoring in exercise science. He was consistently one of the top performers on the cross country team with three top 10 finishes during his senior year. In track, Sheets had a pair of silver medal finishes in a 1500 meter run and a 3000 meter run.