Dorm Wars Collect Donations for Local Food Bank
ResLife hosted a dorm wars competition April 21-24 to raise donations for The Food Bank for Central and Northeast Missouri.
The dorm wars raised 2,365 pounds of food for the Food Bank by asking residence halls to compete to see who could contribute the most donations. Ultimately, Blanton Nason Brewer Hall collected the most food and won.
Additionally, the planning committee for dorm wars extended this event to the community by collecting food donations at HyVee and by hosting events at Bellacino's and TruYo where part of the profits were given as a donation to the Food Bank.
The dorm wars were part of a larger effort by ResLife to participate in the National Pay It Forward Week. This event was organized by the Service Living Learning Community, a hallway for co-ed freshman students who share a passion for volunteering.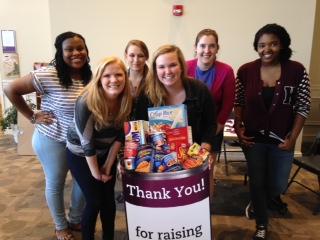 The Pay It Forward Committee poses together with donations after the dorm wars.
Pictured, from left: Tashina Jemmott, Michaela Walsh, Lauren Cook, Alex Kuhn, Tori Holt, Dashia Lee-Carson.
Not pictured: Abby Chamberlain.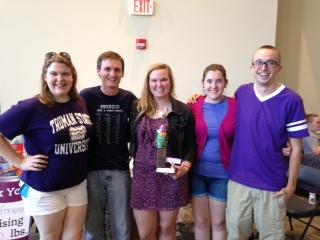 Student Advisors from Blaton Nason Brewer Hall accept their dorm wars trophy.
Pictured, from left: Melissa Mossinghoff, Tommy Cassily, Alex Kuhn, Tori Holt and Zane DeZeeuw.
Not pictured: Kaly Edwards, Kenzie Olson, Michelle Krahenbuhl, Zack Siress and Reba Atchley.