Kickham Named Public Relations Intern
The Truman Public Relations Office has chosen Kevin Kickham, a senior communication major, as intern for the Spring 2014 semester.
Kickham is from St. Louis, Mo., and is a 2010 graduate of St. Louis University High School. He is the son of Tom and Nancy Kickham.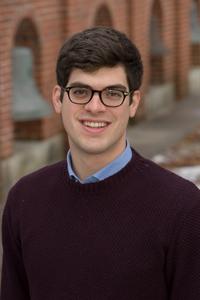 Kevin Kickham
As intern for the Public Relations Office, Kickham will help write the online University newsletter, Truman Today. He will also aid in writing and producing the University's magazine, the Truman Review. Additionally, Kickham will assist in planning the Truman at the Capitol event for Capitol Appreciation Day, write press releases and fulfill other office tasks.
On campus, Kickham is the special events committee chair for the Student Activities Board, the treasurer of the Advertising and Public Relations Organization and an actor in the Theatre Department's upcoming production of "Twelfth Night."
Kickham is excited to help share the values, voice and vision of the University while adapting his studies to real-world situations. He plans to pursue a career in creative management or copywriting.