SERVE Center Honors FLATS as Community Partner of the Year
The Forest Lake Area Trail System (FLATS) received the "Community Partner of the Year" award and was recognized at the Community Partner Appreciation Luncheon, Oct. 29.
The Community Partner of the Year award is given by the SERVE Center to an outstanding community member or agency that has worked closely with the University to promote public scholarship amongst Truman students.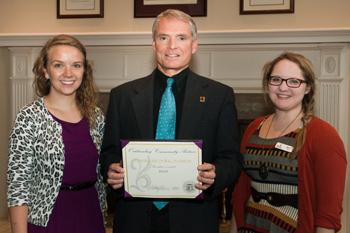 Daniel Martin accepts the Community Partner of the Year Award for FLATS from SERVE Center staff member Mary Beth Myers (left) and Mamie Cox, student coordinator of the SERVE Center.
FLATS was nominated by Alpha Phi Omega, a service organization at Truman. FLATS and Alpha Phi Omega have worked together through Dan Martin, the volunteer coordinator for FLATS. Martin has contacted Alpha Phi Omega when FLATS needed help clearing brush from the trail, and multiple APO volunteers would help clean up the trail.
For more information about the FLATS program, visit
kvflats.org
.