Nelson to Present Baldwin Lecture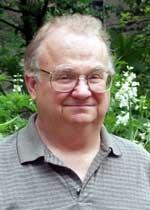 Craig E. Nelson
2006 Baldwin Lecturer
Craig E. Nelson, National Carnegie Scholar and professor emeritus at Indiana University, will visit Truman on Feb. 15 as the 2006 Baldwin Lecturer. His lecture, "Maps for Understanding Liberal Education," will be from 12:30-1:45 p.m. in the Student Union Building Georgian Room, immediately following the Baldwin Banquet.
Nelson will also present a concurrent session during the University Conference Day schedule. This session, "Balancing Rigor and Nurture in the College Classroom," will be at 10 a.m., Feb. 15. All staff, students and faculty are welcome to attend both sessions.
Nelson joined the faculty at Indiana University in Bloomington in 1966. His discipline research extends to more than 60 articles and book chapters focused primarily on evolution and ecology. He has written dozens of articles on teaching which have addressed a wide variety of subjects, including critical thinking, mature valuing, diversity and the teaching of evolution. Nelson has taught several courses in biology as well as intensive freshman seminars and great books and other honors courses. Several collaboratively taught interdisciplinary courses are of particular interest to Truman, especially a three-course, liberal-arts cluster called "Knowing, Knowledge, and Their Limits: Literature, Psychology, and Biology." This course was taken by a young man who is now a member of the Truman faculty, Royce Kallerud, associate professor of English. In "retirement," Nelson continues to teach NSF-sponsored Chautauqua short courses, tackling the problem of "Increasing the Retention of Under-represented Groups - and the Learning of All Groups - in Science, Technology, Engineering and Math (STEM) Courses."
During his career, Nelson received several distinguished teaching awards from Indiana University, and was also the recipient of nationally competitive awards from Vanderbilt University and Northwestern University. He has been a Carnegie Scholar since 2000. He was named the "Outstanding Research and Doctoral University Professor of the Year 2000" by the Carnegie Foundation for the Advancement of Teaching and the Council for the Advancement and Support of Education (CASE). Nelson was key to the development of Indiana University's award-winning Scholarship of Teaching and Learning (SoTL) program. He received the President's Medal for Excellence, "the highest honor bestowed by Indiana University," in 2001. He was the first President of the International Society for the Scholarship of Teaching and Learning, which he helped found in 2004.
Yet, Nelson may be best known for his irreverent nature. This is likely to appear at any time, and can be noted even within his research questions. For example, in his discipline research, Nelson has asked, "Why should an orchid scare the heck out of its pollinators?z' and, "When is stealing a mate preferable to advertising for one?" In his educational research, Nelson has developed questions like, "Must faculty teach in ways that make them easily dispensible?" which was the subject of a
National Teaching and Learning Forum
published in 2000, or titles like "Skewered on the Unicorn's Horn: The Illusion of a Tragic Tradeoff Between Content and Critical Thinking in the Teaching of Science," which was an invited chapter in a Jossey-Bass book in 1994.
The 2006 Baldwin Lecturer is sponsored by the Center for Teaching and Learning. For more information, contact Julie Lochbaum at 785.4391 or
ctl@truman.edu
.