Truman to Induct 2013 Hall of Fame Members
An All-American, a national champion and a legendary coach have been selected to be inducted into the Truman State University Athletics Hall of Fame Oct. 18 during the
Homecoming Celebration Banquet
.
Track and field coach John Cochrane
will be inducted into the Hall of Fame. Cochrane served as head women's track and field and cross-country coach for 33 years while also adding the men's team and serving as an Interim Director of Athletics during his tenure. Four women won five individual national titles in track and field under Cochrane. Marlene Frahm won both the 1985 indoor and outdoor shot put competitions, while Saundra Hester and Christina Winkler captured individual titles in the 400-meter hurdles in 1990 and 2004, respectively. Katrina Biermann added a national pole vault title in 2010.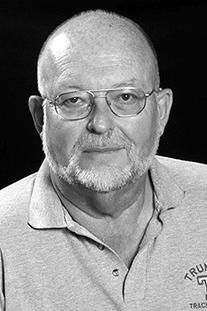 John Cochrane
In addition, Cochrane had 52 individual and seven relays earn All-America honors at the indoor, outdoor or national cross-country championships. His 2004 cross-country team advanced to nationals and placed 20th overall while Kerry Knepper had the highest individual finish at the Division II cross-country meet with a fifth-place finish in 1988.
Cochrane coached 14 Academic All-Americans and his teams were consistently ranked amongst the NCAA-II leaders in team grade point averages. Stacy Roberts ('91) and Virginia Hoefer ('96) were each finalists in the state of Missouri for the NCAA Women of the Year Award.
A benchmark of the program occurred during the 2000 calendar year, as the Bulldog women swept both the indoor and outdoor MIAA championships before capturing the conference cross-country title that October. Cochrane's teams won three other league indoor meets (1989, 1990 and 2003) and the 1983 outdoor championship for a total of seven conference titles.
He is a five-time Conference Coach of the Year award recipient and was named the 1999 Regional Coach of the Year by the United States Track and Field/Cross-Country Coaches Association. Cochrane received the Distinguished Service Award from the NCAA-II cross-country coaches for his contributions to the sport in 1992 and was a 1996 recipient of the NCAA-II Track Coaches Distinguished Service Award. In 2011, Cochrane was inducted into the Missouri Track and Field/Cross-Country Hall of Fame.

Track and Field champion Saundra Hester
('92) will also be inducted into the Hall of Fame. Hester won the 400-meter hurdles at the 1990 Division II Championship in a time of 59.84. She qualified and finished fourth to earn All-America honors in 1989 and again qualified in 1991. Hester won the 1990 and 1991 MIAA Championship in the 400-meter dash. She qualified for two indoor national meets competing in the 400-meter dash and 55-meter hurdles in 1990 and the 400-meter dash in 1991. Hester was a four-year letter winner for coach John Cochrane and served one season as a student-assistant coach.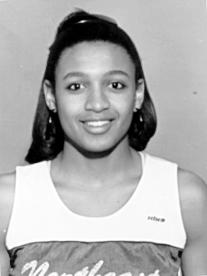 Saundra Hester
She broke two individual records and was a member of two record-breaking relay teams while attending Truman. She broke the indoor 400-meter record with a time of 57.58 and the 500-meter record at 1:16.70. She was a member of the indoor 4x400 relay record with Dawn Miller, Rhonda Ruden and Tonja Begeman in 1991 and as an underclassman helped break the outdoor sprint medley relay mark with Darenda Ruble, Suzy Chase and Kerry Knepper.
Former wrestler Justin Naumovitz
('95) will be inducted into the Hall of Fame. Naumovitz broke a 12-year drought for the Bulldogs when he earned the first of his two All-America honors at the 1993 NCAA Division II Nationals. He placed fourth that year and followed up with a seventh place finish his senior season. He was team captain for four seasons and a member of the 1992-1993 team that finished 11-0-1 in dual matches. He placed three times in the Midwest regional and was a three-time team Most Valuable Wrestler while finishing his career with a 91-12-1 overall record. His 34 wins during the 1992-1993 season were the third most by a Bulldog. Naumovitz represented Truman at the 1994 Chicago Model U.N. convention and was named the Top Delegate. He went on to be an assistant coach and help guide the Lindenwood Lions to a 2002 NAIA National Championship.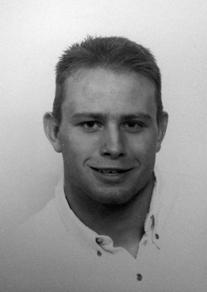 Justin Naumovitz


For more information on all of the events taking place on campus this weekend, including additional athletic events and specific alumni reunions, visit
alumni.truman.edu
or call 800.452.6678.