Alumni to be Honored at Banquet
Several Truman alumni will be recognized at the Homecoming Celebration Banquet Oct. 18 as part of the Homecoming 2013 festivities. Information on how to purchase tickets for the banquet can be found
here
.
Mary (Rhodes) Russell ('80) will be honored as the 2013 Alumna of the Year
. Chief Justice Mary R. Russell was appointed to the Supreme Court of Missouri in 2004. She was retained by a majority vote of the citizens in November 2006 for a 12-year term. Russell was elected as Chief Justice by her colleagues and will serve a two-year term, which started July 1, 2013. From 1995 to 2004, she served as the Chief Judge on the Missouri Court of Appeals, Eastern District, and was the Chief Judge there from 1999 to 2000.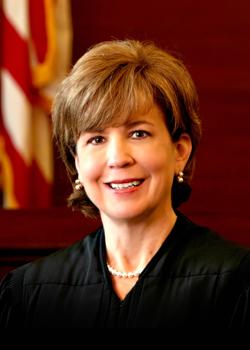 Mary (Rhodes) Russell
Russell graduated summa cum laude from the University in 1980, earning a Bachelor of Science degree in home economics and a Bachelor of Arts degree in language and literature/communication. She went on to graduate from the University of Missouri School of Law in 1983 with her Juris Doctorate. After graduation, she served as a law clerk for the Honorable George Gunn, Jr., at the Supreme Court of Missouri. Russell worked at Clayton and Rhodes, a private practice law firm in Hannibal, until her appointment by Gov. Mel Carnahan to the Missouri Court of Appeals.
During her years at Truman, Russell was active in many student organizations including Cardinal Key, the Index student newspaper, the Mass Communication Club, Sigma Delta Chi, Sigma Sigma Sigma, Sigma Tau Delta, Student Ambassadors and the Student Home Economics Association. She came to Truman as an elite Pershing Scholar after being awarded valedictorian of her graduating class at Hannibal High School. During her summers, she returned to Hannibal and worked for the Hannibal Courier-Post and also held internships in the Missouri House of Representatives and U.S. Congress. She was appointed to the Truman Board of Governors in 1993 and served until 1997. She was president of the Board when the University's named was changed.
Russell has received numerous honors and awards including: the University of Missouri School of Law Citation of Merit Award and the Spirit of Martha Award; a Henry Toll Fellowship; the Young Lawyers Chairperson Award in 1992 and 1993; the Missourians for Equal Justice Award; the Mathews-Dickey Boys' & Girls' Club 2001 Appreciation of the Year Award; and the Faculty/Alumni Award at the University of Missouri in 2002. She was inducted into the Missouri Academy of Squires in 2002 and the Rollins Society at Mizzou in 2011.
The city of Kirkwood honored Russell as the Citizen of the Year in 2003. That same year, she was the recipient of the President's Award from the Woman Lawyers Association and the Distinguished Service Award from Truman. She also received the Women Helping Women Award from the Soroptimist Club, the Rotarian of the Year Award in Jefferson City in 2007, Women's Justice Award in 2008, a Woman of Achievement Award from the Zonta Club and the Lasting Legacy Award in 2012 from Missouri CASA.
Russell spends a lot of her time guest speaking and is an active member of the Back Stoppers Board of Directors, Jefferson City Rotary Club, PEO, the Missouri Women's Forum, Grace Episcopal Church and the Missouri Historical Society. She also volunteers as a Truancy Court Judge at Lewis and Clarke Middle School in Jefferson City, and devotes much time to mentoring young people and speaking to groups around the state.
Russell is married to Jim Russell.
Jeffrey ('74) and Marilyn (Casteel) Romine ('78) will be honored with the 2013 Distinguished Service Award
. Jeff and Marilyn first came to Truman in the early 1970s. Jeff returned to Truman to teach accounting in 1976 and retired in 2009. He also served for several years as the coordinator of the Master of Accountancy program. Marilyn owned retail businesses in downtown Kirksville for several years until she became an instructor and academic advisor in Truman's School of Business from 1991-2013.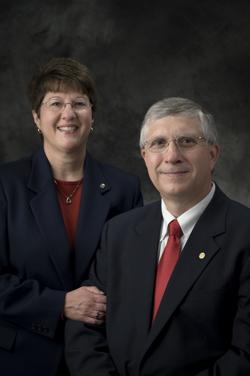 Jeffrey and Marilyn (Casteel) Romine
Jeff and Marilyn have been active in service at Truman, in their professions and in the Kirksville community. Jeff served as advisor to Blue Key for 17 years, as well as to the Accounting Club and Delta Sigma Pi. Marilyn served as an advisor to Delta Sigma Pi, Alpha Kappa Psi, the American Marketing Association and the School of Business Peer Mentor Program. Both served on numerous School of Business and campus-wide committees, and they are members of Truman's Kirk Society and the President's Circle.
The Romines have worked for several community organizations as volunteers, including serving terms as Chamber of Commerce board directors and presidents, United Way fund drive co-chairs, and various offices in Kirksville-Thousand Hills and Rotary Clubs of Kirksville. They are active in Rotary at the district level. Jeff served as Rotary District Governor in 2010-2011.
Jeff and Marilyn are the parents of two Truman graduates.

Michael ('83, '90) and Mary Jo (Fitzpatrick) Schwend ('81, '83) will be honored with the 2013 Distinguished Service Award
. Mike is the President and Chief Executive Officer of Preferred Family Healthcare, one of Missouri's largest comprehensive mental health service providers, which is headquartered in Kirksville. Mike earned his Bachelor of Science degree in social science in 1983 and earned his Master of Arts degree in counseling and guidance in 1990.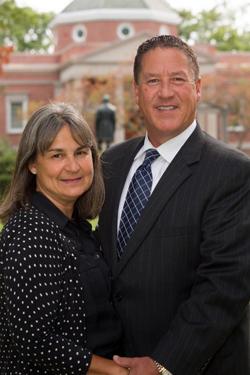 Michael and Mary Jo (Fitzpatrick) Schwend

Mike is a former member and past president of the Truman State University Board of Governors. As a student at Truman, he was active in Alpha Kappa Lambda, Blue Key, the Newman Center, Psi Chi and the Psychology Club.
He served on the White House Commission on Alcohol and Drug Abuse, as well as the Missouri Alcohol and Drug Abuse State Advisory Council, the Missouri Association of Alcohol and Drug Abuse Providers, and several local committees and boards. He also received a Governor's appointment to a Purchasing Review Committee to evaluate the purchase of services by the Department of Mental Health, and currently serves on the Kansas Association of Addiction Professionals Board of Directors.
Mary Jo earned her Bachelor of Science degree in elementary education in 1981 and earned her Master of Arts in education in 1983. While working on her masters, Mary Jo served as a graduate assistant in the math department at Truman. She has served as an educator in the Brashear, Knox County and Kirksville school districts. While a student at Truman, Mary Jo was an Alpha Kappa Lambda Little Sis, a member of the Elementary Education Club, the Newman Center and Phi Delta Kappa.
Mary Jo and Mike reside in Kirksville where they are active in the community. They donate their time and service to the Kirksville K-LIFE chapter, an inter-denominational youth ministry serving more than 200 children and adolescents. They have been married 32 years and are the proud parents of 10 children and seven grandchildren.
Jason ('00) and Jessica (Neighbors) Hill ('99) will be honored as the 2013 Young Alumni of the Year
. Jessica is a resource consultant for 2-1-1 Helpline, a program of the Community Service Council in Tulsa, Okla. Before transitioning to consulting, Jessica was a certified resource specialist and public information officer for 2-1-1 Helpline. She formerly worked as intergovernmental relations administrator for the Mayor's Citizen Corps, a volunteer program with the city of Tulsa, and as acting director of public relations at Oral Roberts University. Jessica is a member of the Southeast Missouri SafeHouse for Women Board of Directors and serves as chair of the Missouri District Nazarene Women's Council.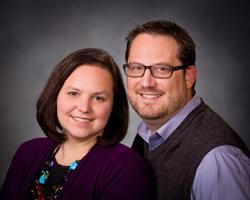 Jason and Jessica (Neighbors) Hill
Jessica is originally from northeast Missouri and is a graduate of Linn County High School. During her time at Truman, she was the student representative to the Board of Governors, the president of Omicron Delta Kappa leadership fraternity, a Student Senate committee chair, a student ambassador and student advisor. She also participated in the Missouri Government Internship program in the office of Gov. Mel Carnahan and later served on the Governor's Commission on the Affordability of Higher Education. Jessica graduated magna cum laude from Truman in 1999 with a Bachelor of Arts in communication and a minor in public administration. She also received a master's degree in non-profit management from Oral Roberts University in 2003.
From 2004 to 2013, Jessica served on the Truman State University Alumni Association Board of Directors. She became vice president in 2007 and president in 2009. She also served as the Alumni Board representative to the Truman State University Foundation Board of Directors, on the Installation Committee for President Troy Paino, and on the Bright Minds Bright Futures Campaign Advisory Committee.
Jason Hill has served as senior pastor of Cape Girardeau Church of the Nazarene since 2010. He previously served for 10 years as an associate pastor at Family Church of the Nazarene in Tulsa, Okla. He is a member of the Missouri District Sunday School and Discipleship Ministries Council and the District Credentials Board, is a certified trainer though Dynamic Church Planting International and has been a Missouri District Work and Witness Team Chaplain. In Cape Girardeau, Jason has focused on discipleship and compassionate ministries, including establishing a missional community that serves underprivileged children and their families.
Jason grew up in Springfield and graduated from Glendale High School. While at Truman, he was involved with Campus Crusade for Christ, New Life Campus Ministry, Phi Alpha Theta History honors fraternity and received an undergraduate research grant to study the development of Yellowstone National Park. Jason graduated magna cum laude from Truman in 2000 with a Bachelor of Arts degree in history and a minor in philosophy and religion. He also received a master's degree in divinity from Oral Roberts University in 2003, where he was named Outstanding Masters in Divinity Student of the Year. Jason is set to begin a doctoral program at Nazarene Theological Seminary this year.
Jason and Jessica reside in Cape Girardeau with their two children.
Tania (Hart) Cook ('85) will be honored as the 2013 Bulldog Forever Volunteer of the Year
. Cook, of Harrisburg, Mo., is originally from Bussey, Iowa, and graduated from Twin Cedars High School in 1981. Upon completion of high school, she attended Indian Hills Community College in Ottumwa, Iowa, obtaining her Associate of Arts degree in 1983. She was awarded a Community College Honorary Scholarship from Truman and obtained a bachelor's degree in business and office education in 1985. She also obtained a coaching endorsement from Drake University and a certificate of rehabilitation administration from the University of Missouri. While a student at Truman, Cook was a member of Delta Sigma Pi, Pi Omega Pi and the marching band. She also worked in the business division office with Dr. Robert Dager and his staff.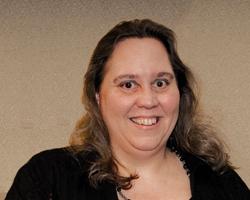 Tania (Hart) Cook
Since graduating from Truman, Cook has been employed by Job Point as a vocational skills instructor, skills training coordinator of office technology and certified nursing assistant, and currently is the academic advisor for the recently established proprietary school component of Job Point.
Cook is actively involved with Truman's Mid-Missouri Alumni Chapter and has served as president for the past three years. She is the treasurer of the Elks Lodge 594 and serves as first vice president of the Columbia United States Bowling Congress Association. She is also a member of the Women's Network through the Columbia Chamber of Commerce and is active as a corporate volunteer and participant in the Show-Me State Games and was previously recognized as a Show-Me State Games Female Volunteer of the Year.
She has been married 17 years to Allan Cook.
Darrel Gourley ('50) will be honored as the 2013 Parade Grand Marshal
. Gourley was a high school all-conference football and basketball player from Mountain Grove, Mo. He enlisted in the Army Air Corps during his junior year and served three years as a radio/gunner on B-17s.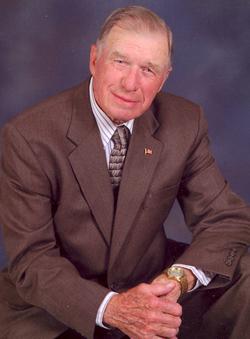 Darrell Gourley
In 1946, Gourley enrolled at the University and was the starting quarterback for four years. He was named to the All-MIAA team as a freshman and scored three touchdowns to help the Bulldogs claim victory over Southwest Missouri State in Springfield. He lettered two years in track and played basketball for two seasons.
Gourley earned his master's degree in education from the University of Missouri and did doctoral work at Indiana University.
Since receiving his degree in 1950, Gourley's career was that of both teacher and coach. He coached at the high school level in Corydon, Iowa, Milan, Fulton and Chillicothe for eight years. He then went to William Jewell in Liberty, Mo., where he served as the assistant football coach for 19 years, head track coach for 24 years, head cross-country coach for 15 years, head wrestling coach for seven years and head golf coach for eight years.
Gourley also served as a flight instructor at William Jewell and holds ratings for private, commercial, instrument and instructor. He was later named intramural director at William Jewell where he administered various athletic activities at the district and national level. His teams have earned a number of NAIA championships. He was named Coach of the Year several times in track and golf.
Gourley served 41 years in the School of Business in all, retiring in 1991. He was inducted into both Truman State University and William Jewell Athletic Halls of Fame.
For more information on all of the events taking place on campus this weekend, including additional athletic events and specific alumni reunions, visit
alumni.truman.edu
or call 800.452.6678.