Nursing Students Present Study Abroad Experiences
A group of senior nursing students will present their experiences of studying abroad to the Philippines at 7 p.m. Oct. 8 in the Student Union Building Georgian Rooms A and B.
Sixteen senior nursing students traveled to Manila and Iloilo City in the Philippines region for a three-week study abroad experience. The students worked in various hospital locations such as labor and delivery, hygiene clinics and women's health centers. The nursing students were exposed to hands-on training and elective clinical settings unique from the United States.
The senior nursing students will give a presentation of Filipino culture in the domain of healthcare and about their experiences abroad. The event is open to the public, and refreshments will be served.
Students presenting are: Katey Carlton, Josie Collett, Jessica Curl, Gabby Epstein, Mallory Eubank, Andrea Grojean, Meghan Krepel, Tara Manillo, Nicole Marion, Carly Moriarty, McCall Oliver, Sonny Phan, Kayla Ridenhour, Bailey Ross, Hannah Tangen and Brittany Thompson.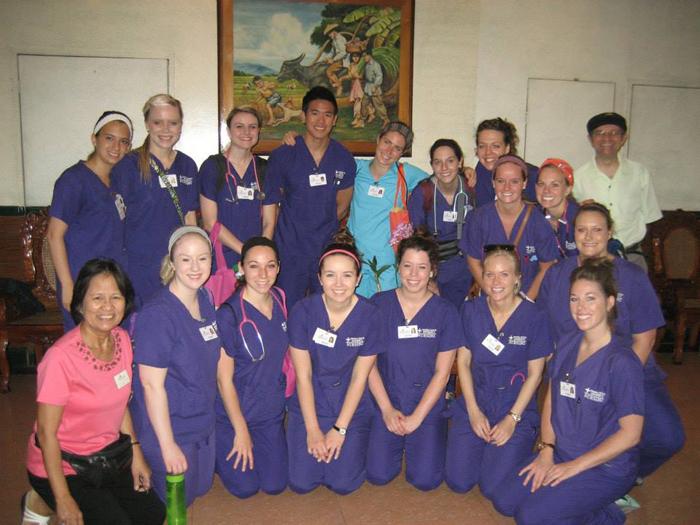 Back Row (left to right): Gabby Epstein, Bailey Ross, McCall Oliver, Sonny Phan, Brittany Thompson, Nicole Marion, Jessica Curl, Hannah Tangen, Andrea Grojean and professor Steve Hadwiger. Front Row (left to right): professor Kit Hadwiger, Carly Moriarty, Tara Manillo, Meghan Krepel, Katey Carlton, Kayla Ridenhour, Mallory Eubank and Josie Collett.