Truman Receives Award for Record Preservation Program
Truman was the recipient of the 2013 Jonas Viles Award for its partnership with the Missouri State Archives to create the Northeast Missouri Records Preservation Program.
This honor, awarded by the Friends of Missouri State Archives, is annually bestowed upon a person or organization that has made a significant contribution to the preservation of Missouri's heritage. Named after the University of Missouri professor who rescued thousands of documents from the capitol lawn after the 1911 fire, this award is given to those who possess a deep commitment to the preservation and study of Missouri's history and have made a positive impact on the safekeeping, accessibility, scholarship and/or promotion of the state's past.
In Truman's unique program, students, under the supervision of Archives' staff, arrange, describe and index historical court records from Missouri's northeastern counties, in a secure on-campus facility. Although the program has only been active for three full semesters and a summer term, interns have already logged nearly 1,400 hours, processing 60 cubic feet of records. With this high level of production, the students have completed their initial project, involving records from the Shelby County Circuit Court, and are now working on a collection from the Clark County Circuit Court. Further, this effort now serves as a model for establishing similar opportunities with other educational institutions across the state.
Stephen Wynn, head of technical services and systems in Pickler Memorial Library, accepted the award, presented by Missouri Secretary of State Jason Kander, during the Friends of Missouri State Archives annual meeting June 8 in Jefferson City.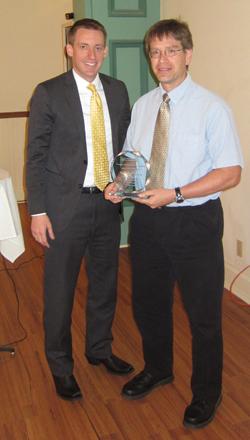 Stephen Wynn, right, accepts the 2013 Jonas Viles Award from Secretary of State Jason Kander.
Accomplishments of previous Jonas Viles Award winners include discovering historical records, processing extensive collections of records with limited financial resources, securing workspace for local records projects, placing scans of original documents online, providing significant financial support for historical projects, securing federal grant funding for historical projects, sponsoring a statewide conference with a variety of complementary activities and creating publications, radio series and other works.