United Way Fund Drive Campaign Exceeds $52,000 Goal at Truman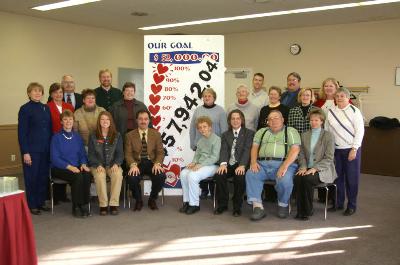 Several of Truman's United Way campaign group leaders stand by Truman's progress sign at the recent victory celebration in the Student Union Building Governors Room (pictured sitting, left to right) Donna Bailey, Rachel See, Matthew Tornatore, Mary Jane Kohlenberg, David Conner, Gene Schneider and Traci Hill; (standing, left to right) University President Barbara Dixon, Sandra Fleak, Stephanie Sullivan, United Way of Adair County Executive Director Nancy Pennington, Betty Floyd, Martha Bartter, Pam Gardner, Marianna Giovannini and Marilyn Gibbons; (back row standing, left to right) Glen Giboney, Todd Kuhns, Jeremy Houser, Tom Johnson and Lesa Ketterlinus.
Truman State University surpassed the fund-raising goal of $52,000 for the United Way. Truman's total collection amount was $57,942.04. The United Way of Adair County assists 13 agencies, including the Adair County Family YMCA, Hospice 2000 and the Salvation Army.