Lyceum Series Returns Feb. 20 with Neil Simon's "Biloxi Blues"
The Kohlenberg Lyceum Series continues Feb. 20 with Neil Simon's play "Biloxi Blues" to be performed by the Montana Repertory Theatre at 7:30 p.m. in Baldwin Hall Auditorium.
Set in Biloxi, Miss., this Tony-award winning comedy follows the adventures of Eugene Morris Jerome during his time as an Army inductee in the midst of World War II. After leaving Brooklyn for the first time ever, Eugene must face 10 weeks of Army boot camp in a place where he feels like an outsider. As an aspiring writer, Eugene observes the craziness around him as he and his fellow inductees prepare to go off to war. Despite the fears and anxieties the young men face as they train for combat, the New York Times comments on Simon's humor by saying, "The laughter rarely stops in this unexpectedly rewarding comedy."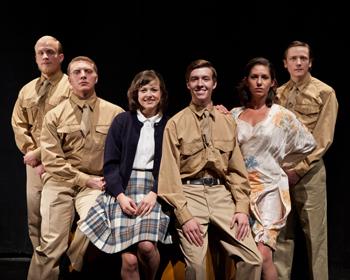 The Montana Repertory Theatre will perform "Biloxi Blues" Feb. 20 in Baldwin Hall as part of the Kohlenberg Lyceum Series. Tickets are free for students, faculty and staff.
Montana Repertory Theatre was established as a professional touring company in 1968 and has grown to be one of the oldest and most respected touring companies in the country. Over the last several years they have performed in more than 350 communities from California to New York.
Free tickets are available now for students, faculty and staff starting. Students may pick up their tickets at the Student Activities Board Office in the Student Union Building. Faculty and staff may acquire their tickets at the information desk in the Student Union Building. General admission tickets cost $7 and are available at the Truman Cashiers Window in McClain Hall or on the square at Edna Campbells. Tickets may also be purchased online at
lyceum.truman.edu
.
For additional information, visit
lyceum.truman.edu
or contact 660.785.4016.