Volleyball Team Makes Another Elite Eight Appearance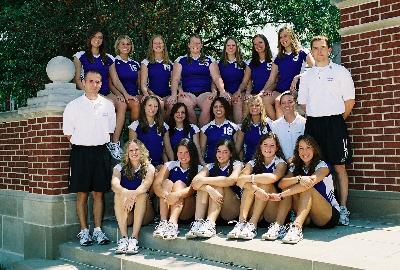 The Truman 2005 volleyball team.
The Truman volleyball team made its fourth trip in the last five years to the NCAA Division II Elite Eight. The fourth-ranked Bulldogs lost in the NCAA Quarterfinals to first-ranked Nebraska-Kearney by scores of 30-25, 30-28, 30-32, 30-27.
Truman was led offensively by Melissa Keck who had a team-high 13 kills and hit .294. Kelsey Wackerman and Sarah Shearman added 12 kills and Megan Remley had 11. Wackerman paced the squad with 35 assists and Christine Wagener added 26.
Defensively, two Bulldogs recorded 30 or more digs. No Bulldog player has had 30 or more since the 1995 campaign. Whitney Boehler led the way with 32 and Sarah Shearman added 30. Micaela Walter, Eli Medina and Christine Wagener were in double-figures as well.
Shearman was named to the Elite Eight all-tournament team for the second straight season at the conclusion of the tournament.
Truman ended its season with a record of 32-6. The team won both the MIAA Tournament championship and the South Central Championship during the year under first-year head coach Jason Skoch.