VITA Provides Free Tax-Filing Service
IRS-certified students at Truman are volunteering their time to help individuals with low- to moderate-income levels file their simple tax returns for free.
Students and members of the Kirksville community can get help from 8 a.m.-3 p.m. Feb. 25, March 24 and March 31 in Violette Hall 1424.
Truman's chapter of Beta Alpha Psi, an organization for financial information professionals, adopted Volunteer Income Tax Assistance (VITA) 11 years ago. VITA is a national program established by the IRS that provides tax return assistance. Each year, 300 Truman students and members of the community seek VITA's help.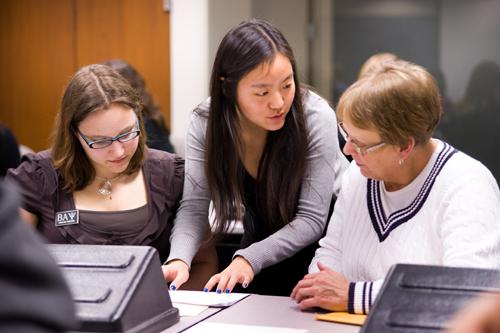 Members of Beta Alpha Psi help an area resident file her taxes during a recent VITA workshop. The sessions are designed to help members of the community file their simple returns for free.
Lucas Dille, vice president of VITA for Beta Alpha Psi, believes this assistance program is a great opportunity for all students interested in accounting or finance.
"Students participate because of the hands-on experience of preparing tax returns and working with clients," Dille said.
Alan Davis, associate professor of accounting and the VITA advisor, assists with all training and is present on filing days. Training consists of several sessions informing volunteers about the U.S. tax system.
Volunteers must also complete several practice returns and take an IRS qualification test. This year, 150 Beta Alpha Psi members and other workers are volunteering on campus.
For more information, visit
bap.truman.edu
or email Lucas Dille at
lmd6224@truman.edu
.