Mock Trial Team Excels at Tournament
Two squads from Truman's Mock Trial Team competed at the 2012 Kansas City Regional Tournament hosted by UMKC as part of the American Mock Trial Association Feb. 11-12.
Peter Bruntrager, a senior mathematics major, won the individual award for Outstanding Attorney.
Nasra Aaden, a sophomore justice systems major; Samantha Simms, a junior business administration major; and Ann Frydrych, a junior justice systems major, won individual awards for Outstanding Witness.
One squad placed 6th out of 24 teams and is invited to compete at the opening round of the National Championships in St. Louis in March.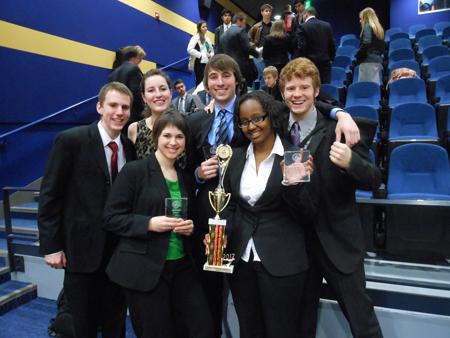 Members of Truman's Mock Trial team celebrate after the 2012 Kansas City Regional Tournament. Pictured, back row, left to right: John Brooks, Audrey Rabenberg, Peter Bruntrager and Caleb Reed. Front row, left to right: Sam Simms and Nasra Aaden.