Ray Klinginsmith to Serve as Commencement Speaker
Ray Klinginsmith will address students as the commencement speaker for December 2011 graduation. Commencement will take place at 11 a.m. Dec. 17 in Pershing Arena.
Klinginsmith is a retired attorney in Kirksville, with 46 years of experience as a lawyer in Macon and Kirksville. A graduate of the business school and the law school of the University of Missouri-Columbia, he is a member of the Missouri Bar. In 1983, he was honored with the Thomas D. Cochran Community Service Award presented by the Young Lawyers Section of the Missouri Bar.
Klinginsmith retired in 1995 as general counsel and professor of business administration for Truman after 22 years of service. During his tenure at the University, he also served as dean of administration for a period of five years during the University's transition to a liberal arts and sciences institution. Following his retirement from the University, he served a four-year term as a county commissioner for Adair County from 2001 to 2004.
From 1971 to 2008, Klinginsmith served as a director of the Macon-Atlanta State Bank in Macon. He now serves as a director emeritus and a member of the holding company board for the bank.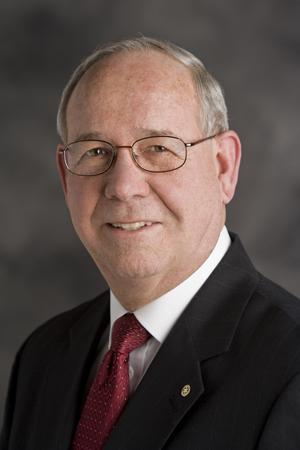 Ray Klinginsmith
Ray and his wife, Judie, were two of the founders of the Chariton Valley Association for Handicapped Citizens, which provides services for people with disabilities with a staff of more than 100 employees. He was president of the association from its inception in 1982 until 2009, and now serves as the president emeritus. He was one of the initial trustees for the Missouri Family Trust, which was created by the Missouri legislature in 1989, and he was accorded the 1988 Parent/Caretaker Award by the Missouri Planning Council for Developmental Disabilities. He is a former member of the Executive Board for the Great Rivers Council of the Boy Scouts of America and the holder of its Silver Beaver Award for adult volunteers. Both he and Judie are members of the First United Methodist Church in Kirksville, and Ray is a former lay speaker for the church.
A Rotarian for 50 years, Klinginsmith is currently a member of the Kirksville Rotary Club. He served as the president of Rotary International for 2010-2011 and was the leader of a progressive board of directors from around the world. Klinginsmith studied at the University of Cape Town as a Rotary Foundation ambassadorial scholar in 1961, and he became the first recipient of a Rotary Foundation award ever to serve as the Rotary International president. Rotary International has 34,000 clubs in about 200 countries across the globe with a total membership of 1.2 million Rotarians.
Ray and Judie have two children, Leigh and Kurt, and three teenage grandchildren, Morgan, Grant and Sydney Perkins. Their daughter, Leigh, and her husband, Bob Perkins, are both graduates of Truman.