Montgomery Named Educator of the Year
Chad Montgomery, assistant professor of biology, received top honors at the 22nd annual Educator of the Year Banquet March 21.
Montgomery began teaching at Truman in 2007. He is the director of the biology graduate program and is an adviser for three organizations. Montgomery teaches Introductory Biology I and II, Herpetology and Environmental Physiology of Vertebrates.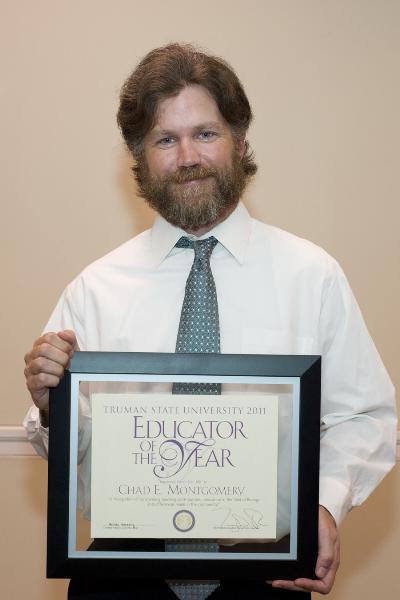 Chad Montgomery
After receiving a bachelor's degree in biology at Truman, Montgomery went on to earn a master's thesis degree at the University of Northern Colorado. After receiving his M.A., he attended the University of Arkansas to study the effects of foraging mode on life history in copperheads and timber rattlesnakes for his Ph.D. Montgomery then moved to Panama as part of his postdoctoral work examining the effects of amphibian decline on snake communities. Montgomery still conducts research in Central America, including a project examining body size variation in boa constrictors on islands off of the north coast of Honduras.
Students nominate professors for Educator of the Year. Nominees then submit an essay and syllabus to the Educator of the Year committee, which selects the finalist.
In addition to Montgomery, this year's finalists included Jesse Krebs, Shirley McKamie, Carol Marshall, Bob Matthews and Donna Rhinesmith.
Students from the Pershing Society, Student Government and Phi Kappa Phi serve on the Educator of the Year Committee.