Final Allen Fellowship Winners Named
Faculty members Scott Alberts, Matthew Beaky and Karen Smith each received the Walker and Doris Allen Fellowship Feb. 8.
The $10,000 Walker and Doris Allen Fellowship recognizes outstanding faculty members who have made exemplary contributions to the success of the University and its students. Up to three faculty members are selected each year. The Fellowships are open to all tenured or tenure-track faculty who have completed at least four years of full-time service at Truman. Eligible faculty may be nominated for the Fellowship by Truman faculty colleagues or academic departments.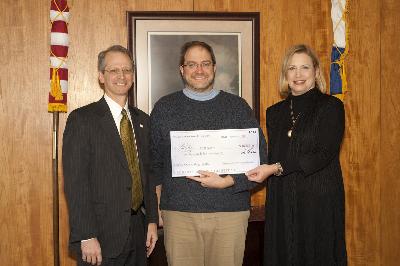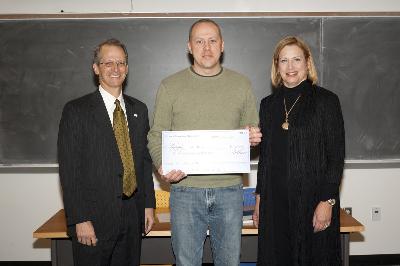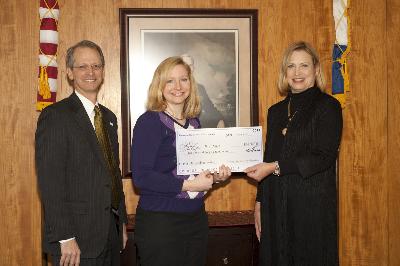 University President Troy Paino and Pinney Allen present the 2011 Doris and Walker Allen Fellowship awards to Scott Alberts (top) Matthew Beaky (middle) and Karen Smith (bottom).
Alumni Walker and Doris Allen established the Fellowship in 2000 with a $250,000 contribution, one of the largest gifts ever made to the Truman State University Foundation.
This is the final year of the program, which has recognized 30 faculty members with the award.
President Troy Paino, along with Pinney Allen, daughter of Walker and Doris Allen, presented the faculty members with the awards. Pinney Allen came to campus from Atlanta, Ga., to award the final round of Fellowships.
Scott Alberts, associate professor of mathematics, is in his tenth year at Truman. In addition to teaching statistics, he serves as director of the Truman Portfolio Project and is a faculty mentor for the University's newly created Center for Applied Statistics and Evaluation. Alberts frequently serves as a consultant and evaluator to the research of others, across a wide range of disciplines. His own research investigates mathematics anxiety and looks to find ways to reduce anxiety in ways that also improve mathematics performance. Alberts earned two bachelor's degrees from Oberlin College and his masters and Ph.D. from Northwestern University.
Matthew Beaky, associate professor of physics, came to Truman in 2000. His general interests include observational astronomy, astrobiology and archaeoastronomy. Along with his teaching duties, Beaky is the director of Truman's Office of Student Research, overseeing the annual Student Research Conference and the TruScholars Summer Undergraduate Research Program. Beaky received his bachelor's degree from Worcester Polytechnic Institute and his Ph.D. from The Ohio State University.
Karen Smith, associate professor of psychology, joined the Truman faculty in 1999. She received her doctorate and master's degrees in psychology from the University of Nebraska-Lincoln and her bachelor's degree in psychology from Hanover College. Her research interests are in issues of human cognition, perception and performance, including human visual attention, selective attention, pre-attentive processing, memory and contingency learning. She is a member of the Midwestern Psychological Association, the American Psychological Society, the Council for Teachers of Undergraduate Psychology and Sigma Xi.
Walker W. Allen graduated from Truman (then Northeast Missouri State Teacher's College) in 1939 with a bachelor's degree in business education. Doris Allen attended Truman from 1938-1939. Walker served as a Truman State University Foundation Board member from January 1998 until his death in March 2009. The Allens have two children, William D. Allen and Pinney Allen. Doris continues to reside in Columbia.
A complete list of all past Allen Fellowship winners, as well as more information about Walker and Doris Allen, is available at
http://academics.truman.edu/allenFellowship.asp
.