HES Student Completes Internship with Apple
Every student fantasizes about a dream internship, one that combines work and fun in a glamorous location where sometimes celebrities stop in just to say "hi."
Evan Rioux, an exercise science major at Truman, made this dream a reality when she interned at Apple's headquarters in Cupertino, Calif., during the Fall 2010 semester.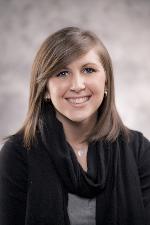 Evan Rioux
Rioux worked in the Wellness Department conducting fitness consultations, performing various tests, developing workout plans and more for Apple's thousands of employees.
The application process for Apple spanned about seven months. When Rioux had her first phone interview with Apple in February, the company warned her the process may take a while. The internship was not offered officially until mid-July, when she was interning for Cooper Aerobics in Austin, Texas.
"It was a pretty long process, long enough to where you kind of forget about it," Rioux said.
Based on her previous coursework at Truman and her summer internship at Cooper, Rioux said she felt pretty prepared for her internship at Apple.
"[The internship at Apple] seemed a little bit more intense than Cooper," Rioux said. "I catch onto things pretty easily because I'm a 'have-to-do-it-to-learn,' so we did clinicals—lots of stuff—where it's just hands-on, all the time, 24-7."
Not only did Rioux have to train for her position in the Wellness Department, but she also had to go through all Apple's computer and software training in order to start working.
The fitness center where Rioux worked was right off Apple's main campus and sometimes she had up to eight appointments per day consulting patients. Fitness center services are included in the benefits program for Apple employees and dependents, so most take advantage of them, which keeps employees of the Wellness Department busy.
"Apple Wellness is basically there to delay the onset of heart disease—it's to make them more aware of it and how to become healthier and more productive at work," Rioux said. "A lot of times, employees don't realize that when you're healthier—you exercise regularly, eat well, sleep a lot, aren't stressed—you're going to be more productive at work which is better for your company. So, it all ties together in the end."
Despite all the hard work, there were some perks to being an intern for Apple. Rioux said musicians such as Keith Urban came to Apple's main campus frequently to visit employees in iTunes. At one point, James Blunt performed in Cafe Macs, one of the restaurants on campus. Apple offered giant coach buses with Wi-Fi and leather seats for employees to commute from cities such as San Francisco, a luxury which Rioux utilized for the last couple weeks of her internship while visiting family. One day, Rioux even saw Steve Jobs when walking on campus with colleagues from the Wellness Department.
"Don't be afraid to go far," Rioux suggests. "I applied for two dream internships and got them both. I traveled from Missouri to Texas to California all in an eight-month period of time. Don't limit yourself. If there's something you really want to do, go for it, because it's totally worth it in the end."