$50,000 Campaign Gift Honors Parents
Linda Miller ('70) and her husband, Tim Duperron, teamed up with Linda's brother, Jim Miller, to add to the family's legacy at Truman through the creation of the Lou and Rita Miller Endowed Scholarship.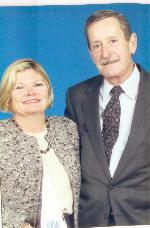 Linda Miller and Tim Duperron
The three Truman supporters donated $50,000 to the "Bright Minds Bright Futures" campaign to establish a new scholarship named in memory of Linda and Jim's late parents.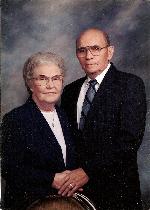 Rita and Lou Miller
Lou Miller and Rita Clark were both born in Edina, Mo., in the 1920s, and the two became high school sweethearts. During World War II, Lou served as a naval aviator and flew torpedo bombers from the decks of the USS Bonhomme Richard and the USS Saratoga in the Pacific Fleet. After Lou returned from the war in 1946, he and Rita were married, and the couple resided in California for a short time before moving back to the Miller family farm in northeast Missouri. They then settled in Kirksville where Lou began a career with Southwestern Bell Telephone Company that ultimately spanned nearly four decades. Rita worked as a telephone operator, a homemaker and an accomplished seamstress.
Both Lou and Rita are remembered for their devotion to their family, friends and church, as well as their service to others, so when the donors were seeking a way to honor the couple, a scholarship that would assist others was a logical choice. Since the Miller family has strong ties to northeast Missouri, it's also fitting that the scholarship named in honor of Lou and Rita will benefit students from Knox and Adair counties.
Lou and Rita's daughter, Linda, is an alumna and longtime supporter of Truman. She retired from a long and distinguished career with Ford Motor Company, where she served as director of manufacturing for Powertrain Operations, and she is especially interested in supporting students who are studying mathematics and computer science. Linda believes the education she received at Truman gave her the foundation for her many successes, and she is committed to passing along the benefits of a Truman education to future generations of students.