Truman Delta Sigma Pi Receives Most Outstanding Chapter Award
Last month, Truman's chapter of Delta Sigma Pi was selected as the Most Outstanding Chapter in the nation.
National officers presented the award to Matt Vennemen, president of the Iota Nu chapter of Delta Sigma Pi at the LEAD (Leadership and Excellence Academy for Deltasigs) School in Indianapolis, Ind.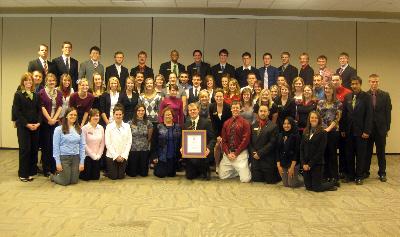 Members of the Truman (Iota Nu) chapter of Delta Sigma Pi display the Most Outstanding Chapter award. Truman's chapter has now received the award nine times.
The National Most Outstanding Chapter Award is given to the chapter that best exemplifies the purpose of Delta Sigma Pi. The chapters are evaluated on professional activity, community service, fundraising, academics and others.
In addition to the National Most Outstanding Chapter Award, the chapter also won the national award for Most Outstanding Professional Activities, the Provincial award for Most Outstanding Chapter and Professional Activities and Outstanding Scholastic Development for the Gateway Region.
The Iota Nu Chapter of Delta Sigma Pi continuously strives to improve its programs in order to represent Truman effectively. The chapter was founded Dec. 9, 1978. Since then, it has claimed the National Most Outstanding Chapter Award nine times, which is more than any other chapter. The International Fraternity of Delta Sigma Pi was founded at New York University, School of Commerce, Accounts and Finance Nov. 7, 1907.
Delta Sigma Pi, a professional fraternity, is one of Truman's organizations open only to students majoring in business, accounting, or economics. Delta Sigma Pi is involved in a number of activities across campus, including: co-sponsoring the Career Expo; managing the University's concessions business, which provides food service at all athletic events; providing speakers to students to encourage professional development; tutoring for the Junior Achievement program, which teaches basic economic concepts to young students in Kirksville's elementary classes; and participating in Relay for Life, to name a few.