International Idol Showcases Talents from Around the World
Students from all over the world will compete for the title of International Idol at 6:30 p.m. Oct. 30 in Baldwin Auditorium.
International Idol is an annual event sponsored by the International Club and various local businesses, including Patty's University Bookstore, The Downtown Grocery Store and the Greek Corner Gyros. This event introduces and educates the Kirksville and Truman communities about different cultures with various performances.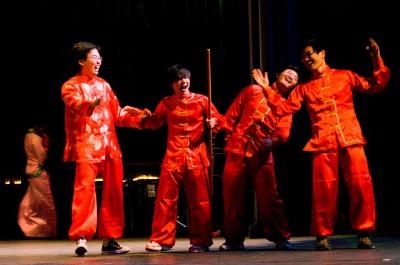 Students perform a dance from China during Truman's 2009 International Idol competition.
This year's International Idol will feature previous award-winning groups, including: the Japanese dance group led by Reina Koyana; the African Student Association drama team led by Bjay Adio; and the Society for Sino-American Studies dance/instrumental team led by Wilson Zhang.
Other performances will represent cultural aspects of Nepal, Korea, India, the U.S. and Vietnam. Additionally, this year's International Idol will feature a first-time-ever surprise.
The International Club is an organization dedicated to creating social awareness and understanding between American students and students who were foreign born and/or recent immigrants to the U.S. The club aims to bring awareness about international issues to campus, promote openness to ethnic diversity and provide services to the campus and Kirksville communities through cultural exchange.