Kiddoo Sworn in as New Board of Governors Student Representative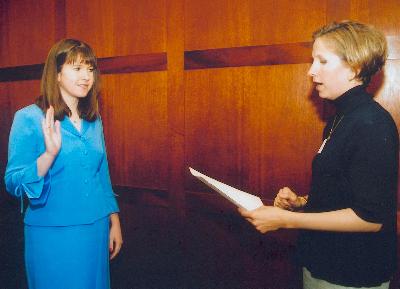 Board of Governors President Sarah Burkemper (right) swears in Emily Kiddoo (left) as the new Board of Governors student representative at the Board of Governors meeting in the Student Union Building Conference Room Aug. 5.

The Board of Governors has a new member.
Gov. Matt Blunt appointed Emily Kiddoo to the Board of Governors in July.
Kiddoo is a sophomore political science and business double major from Memphis, Mo. She is a member of the P.E.O. Chapter C and the Truman State University College Republicans. Kiddoo is a member of the United Methodist Church. She is a recipient of the Truman Leadership Scholarship award and the Missouri Health Care Association Teen Volunteer of the Year award in 2004.