Spring 2010 Honors Scholar Graduates
Eleven students graduated as Honors Scholars this May.
The candidates were recognized at the Honors Scholar medal ceremony May 7 in the Student Union Building.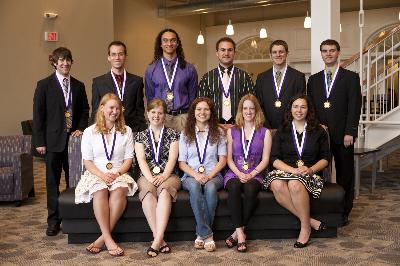 First row (left to right): Anne Woodruff, Amanda Olp, Jessica Ponder, Kelly Merritt and Loren Dunham. Second row (left to right): David Taylor, Nicholas Wilsey, Andrew McCall, Grant Berry, Jacob Sanning and Tyson Koenig. Not pictured: Jacob Schrum.
More than 200 Truman students have graduated as Honors Scholars since 1994. To become an Honors Scholar, students must complete five approved courses, with at least one from each of the four areas of mathematics, science, social science and humanities with a grade point average of at least 3.5 in those courses and an overall cumulative grade point average of at least 3.5. Only grades of "A" and "B" may count toward the five Honors Scholar courses and students who complete a single undergraduate major may not satisfy Honors Scholar requirements with any course within their major.
For more information, visit the Honors Scholar webpage at
http://honors.truman.edu
.