Truman Faculty to Perform Original Play at Minneapolis Festival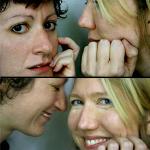 Daryl Fazio, assistant professor of art, wrote "Georgia Out of My Mind" specifically for the 10-day Minnesota Fringe Festival (
http://www.fringefestival.org
), running from Aug. 4-14 in Minneapolis. The hour-long play is a two-woman, 10-character slice of Southern life hinging on the search for a missing former debutante and will be performed five times during the festival.
Part comedy, part drama, part mystery, part character study, and part utter nonsense, "Georgia" is Fazio's second play. Her first play, "Greyhounds," was produced Off-Off-Broadway this July at New York's American Theater of Actors after receiving its world premiere in Kirksville in 2003.
The production features Fazio and Becky Becker, associate professor of theatre, in the play's 10 roles with Joan Mather, professor of theatre, as director. The company also involves Benjamin Knoll, a junior theatre major from St. Louis, and Katie Rose, a senior English and theatre double major from Cape Girardeau, Mo., as stage manager and scenographer. Knoll and Rose received a grant to help them pay for travel costs, as well as to produce a documentary on the rehearsal process and ultimate Fringe experience.
Fringe Festivals, a concept which originated in Edinburgh, Scotland 50 years ago when uninvited performers entertained crowds on the outskirts of the Edinburgh International Festival, now take place all across the world. Minnesota's festival is the longest-running of the U.S. Fringes, this summer holding its twelfth. There are more than 150 shows in a dozen venues vying for audiences from the more than 40,000 people who turn up for the Festival annually.
The duo will be performing a public dress rehearsal before they leave for Minneapolis. This dress rehearsal will be at 8 p.m., Aug. 2, in the Ophelia Parrish Black Box Theatre. Admission is free, but donations are accepted.
"Georgia Out of My Mind" will show Aug. 4 at 10 p.m., Aug. 5 at 5:30 p.m., Aug. 6 at 4 p.m., Aug. 11 at 8:30 p.m., and Aug. 12 at 10 p.m. at the Interact Theater, 212 North Third Avenue, in Minneapolis.