Pickler Memorial Library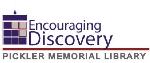 Time to write a bibliography?
There are several online resources that can help. One is EndNote, a program that downloads to a computer, which allows users to download citations and it will format them in the selected citation style. Zotero is a similar product but it only works on the FireFox browser. For examples of how to format bibliographic citations in the three major styles, MLA, APA and Turabian, see the following webpage:
http://library.truman.edu/weblinks/citing-sources.asp
.