Author Begins "For-Words" Series March 18
Award-winning author Howard Schwartz will present "Tales from the Great Jewish Mystics" at 7 p.m. March 18 in the Student Union Building Activities Room.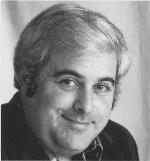 Howard Schwartz
Schwartz, a professor of English who teaches creative writing at the University of Missouri-St. Louis, is a major figure in Jewish folklore and mythology studies. He has authored six novels and three books of poetry. Schwartz also edited a book on Biblical interpretation as well as several children's books and more than a dozen collections of Jewish myths and folktales, parables, poems, proverbs and jokes.

Some of Schwartz's works have been used at Truman by faculty members teaching world literature, mythology, creative writing and world religions classes. A complete listing of his work can be found online at
http://www.howardschwartz.com
.
The English and Linguistics Department, along with the Philosophy and Religion Department, are sponsoring Schwartz's visit to Truman. Following the presentation, Hillel will provide refreshments.
"Tales from the Great Jewish Mystics" is the first of an English and Linguistics event series entitled "For-Words." Future events include a poetry reading by Missouri Poet Laureate Walter Bargen on April 15 and the English and Linguistics Senior Seminar Conference April 22-23. For more information go to
http://engling.truman.edu
.