Foundation Awards Study Abroad Scholarships
The Truman State University Foundation awards 10 $1,500 scholarships annually to students who are participating in a summer, faculty-led study abroad experience.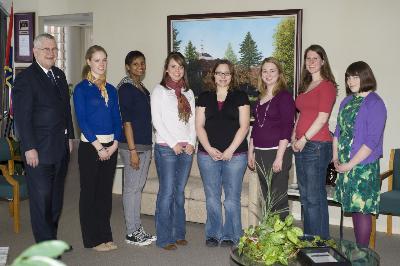 University President Darrell W. Krueger (left) stands with seven of the 10 students who received the Foundation Study Abroad scholarships. Pictured second from left to right, Lisa Dworak, Celeste Stewart, Jackie Ross, Caroline Forsythe, Danielle DiGiacomo, Marcy Anderson and Faith Martin. Not pictured are recipients Kristel Bylo, Julie Dusheke and Kevyn Wiskirchen.
The students who have been selected as recipients in 2010 will study abroad in various programs, including Archeological Dig/Mideast Study Tour, China, Costa Rica, Europe in Transition, Sacred Sites of Greece and Transcultural Experience in the Philippines.
More than $444,000 in scholarships have been awarded from the Truman State University Foundation in 2009-2010. These scholarships are made possible through generous contributions from alumni, parents and friends of the University.
Applications for 2010-2011 Foundation scholarships are available online now at
https://secure.truman.edu/isupport-s/
. The deadline to apply is midnight, March 5. Foundation Study Abroad scholarship applications will be available in the Center for International Education this fall.
For more information or questions, contact the Office of Advancement at 785.4133.