Walker and Doris Allen Fellowship for Faculty Excellence Recipients Announced
Three Truman faculty members, Maria Nagan, John Quinn and Jeffrey Vittengl, have been honored with the Walker and Doris Allen Fellowship. President Darrell W. Krueger, along with Provost and Vice President for Academic Affairs Troy Paino, surprised the faculty members Feb. 16.
The $10,000 Walker and Doris Allen Fellowship recognizes outstanding faculty members who have greatly contributed to the success of the University and its students.
Maria Nagan began teaching at Truman in the fall of 2000 as a lecturer. The following year she was promoted to assistant professor of chemistry and then associate professor of chemistry in 2006.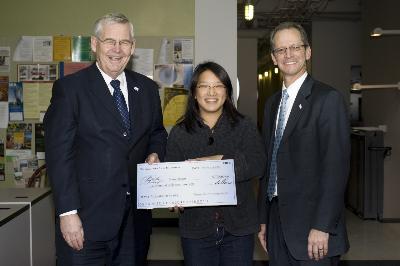 Maria Nagan with University President Darrell W. Krueger and Provost Troy Paino
She has a Ph.D. in chemistry from the University of Minnesota, Twin Cities, with specialty areas of biology and physical chemistry. She earned her bachelor's degree from Grinnell College in Iowa. Her research interests include molecular dynamics simulations of RNA and protein-RNA complexes, particularly those containing modified nucleic acid bases.
John Quinn has been at Truman since the fall of 1996. He majored in history and English at St. Vincent College (Latrobe, Pa.) and obtained his master's and Ph.D. in political science from UCLA.
In addition to his time at Truman, Quinn also taught at the University of Ghana-Legion for a semester and spent three years as a Peace Corps Volunteer in Zaire, now the Democratic Republic of Congo. His primary research agenda centers on the political and economic effects of majority state ownership of industry, mining or oil in Africa.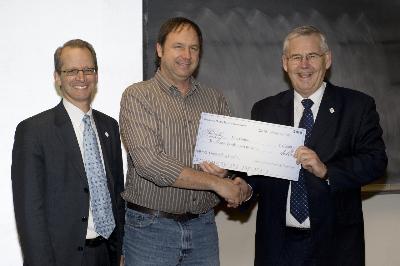 John Quinn with Provost Paino and President Krueger
Quinn is the author of "The Road Oft Traveled: Development Politics and Majority State Ownership of Industry in Africa." He also has published articles in such journals as International Interactions, Party Politics and International Politics.
Jeffrey Vittengl, associate professor of psychology, has been at Truman since 2001. In addition to a bachelor's and master's in psychology, he earned his Ph.D. in clinical psychology at the University of Iowa. His research interests include assessment and psychometrics, social-interpersonal functioning in anxiety and depression and treatment of depression.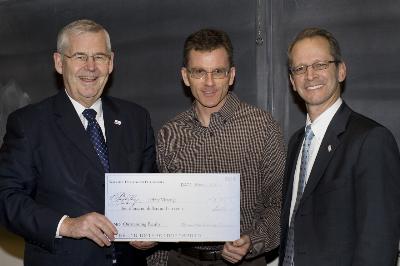 Jeffrey Vittengl with President Krueger and Provost Paino
Besides teaching courses in abnormal psychology, behavior modification, elementary psychology, experimental psychology, introduction to clinical psychology and personality psychology, Vittengl served as the director of the Student Interview Project from 2004-2009.
He is a member of the Association for Behavioral and Cognitive Therapies, Midwestern Psychological Association and Sigma Xi.
Alumni Walker and Doris Allen established the Fellowship nine years ago with one of the largest outright gifts ever made to the Truman State University Foundation.
Walker W. Allen graduated from Truman (then Northeast Missouri State Teacher's College) in 1939 with a bachelor's degree in business education.