Project Benefits Truman and Kirksville Primary Students
The Health and Exercise Sciences (HES) Department has partnered with Kirksville Primary School (KPS) to create an interactive learning environment for both college and elementary students.
Chris Lantz, HES department chair, and Janice Young, HES assistant professor, began the Kirksville Primary Partners Project nearly two years ago.
Originally started as an environmental buddy program, the idea came from a conversation between Lantz and second-grade KPS teacher, Debbie Lechner. She expressed to Lantz she wanted her students to be involved in service, and Lantz saw an opportunity for Truman students to help.
Since then, the program has grown to include more elementary classrooms and a variety of topics.
HES students present a range of lessons including nutrition, environmental health, recycling, physical activity, wellness and more. Past projects at KPS have included making recycled paper, picking up litter and assisting with Earth Week activities.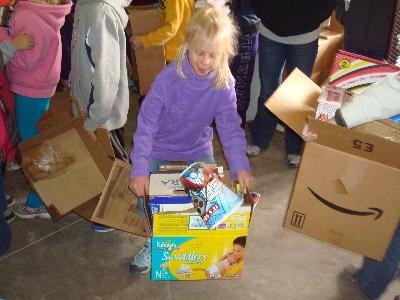 A student from Mrs. Lechner's second-grade class at Kirksville Primary School gathers cardboard items during a field trip to the Truman Recycling Center.
Lantz said countless Truman students have participated in the program.
"Our students interact with their students, and largely, the faculty sit back and watch the interactions happen," Lantz said.
The interactions provide a hands-on learning experience for both KPS and Truman students.
"Our kids probably benefit from that relationship more so because they are responsible for delivering content," Lantz said, referring to the role of Truman students as facilitators and teachers of the activities.
October's activity consisted of a field trip to the University Recycling Center. There, Lechner's students learned about the different products that can be recycled and what can be made from recycled materials.