Pickler Memorial Library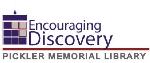 Bibliographic Citation Style Help Available
Did you know that both the American Psychological Association (APA) style for writing bibliographic citations and the Modern Language Association (MLA) style changed this year?
Here is a link that will help you update your bibliographic citation styles.
http://library.truman.edu/weblinks/cite-sources-duke/cite-sources-index.asp
Some other products which format bibliographic citations automatically are:
Citation Machine
http://citationmachine.net/
EasyBib.com
http://www.easybib.com/
KnightCite
http://www.easybib.com/
All are available free on the web.