Burnham to Perform Nov. 7
The Student Activities Board (SAB) will present comedian Bo Burnham at 8 p.m. Nov. 7 in Baldwin Hall Auditorium.
Tickets are free with a Truman student ID and can be picked up at the SAB Office in the Student Union Building. General admission tickets are $10 and can be purchased online at
http://sab.truman.edu/store
or at the SAB Office.
Three years ago, Burnham was just another high school student recording YouTube videos for fun. Today, he has burst onto the comedy scene with a full-length album, a Comedy Central special and a deal to write a film for Judd Apatow.
Entertainment Weekly recently named Burnham one of the "12 Rising Stars of Comedy."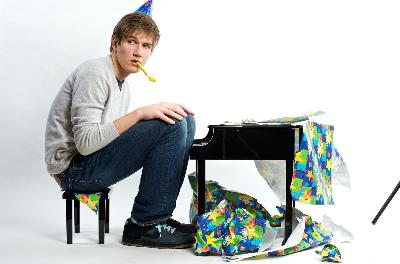 Bo Burnham
In March, Burnham released his first full-length album "Bo Burnham" which topped Billboard's New Artist chart and was No. 2 on Billboard's Comedy chart in its first week.
Four days after his 18th birthday, Burnham became the youngest person to record a "Comedy Central Presents" special, which premiered in March 2009.
During the fall of his junior year in high school, Burnham started teaching himself how to play piano and guitar. Soon after, he wrote and composed autobiographical songs, such as "My Whole Family Thinks I'm Gay," as non-fictional jokes between him and his friends.
In 2006, Burnham recorded two of his songs as videos and posted them on YouTube. Three years and 15 videos later, his videos have been seen more than 50 million times worldwide. The songs, recorded in Burnham's bedroom with a camera resting on a stack of books, have been remixed, rated and reviewed thousands of times.
With the growing Internet buzz, Burnham was invited to the "Just for Laughs Comedy Festival" in Montreal in 2007 where he met Apatow, who flipped for the, then 17-year-old. Shortly after, Burnham signed a deal to write the script and songs for an "anti-high school musical" feature in which he would also star, with Apatow producing.
In 2008, Burnham signed a four-record deal with Comedy Central Records. He released his first digital-only album "Bo Fo Sho" on iTunes in June. The album hit No. 1 on the iTunes comedy album chart and No. 6 on the overall iTunes album chart.