JazzFest 41 Features Musician Ben Allison
The men's leading music fraternity, Phi Mu Alpha, will present Ben Allison, along with his rhythm section Man Size Safe, as this year's artist for JazzFest 41 at 8 p.m. Feb. 28.
Cited in the "Best Bassist" category of the 2005, 2006 and 2007 Downbeat Readers' Poll, Allison's work has not gone unnoticed by the press.
Jazz Times said Allison is a "visionary composer, adventurous improviser, and a strong organizational force on the New York City jazz scene, [and] has emerged as a rising star over the past decade."
Called "one of today's best young jazz musicians" by the Boston Globe, Allison has released eight albums of original music all of which showcase his forward-thinking vision as a producer, composer, arranger and bassist, as well as his hands-on approach to his craft.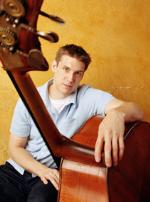 Ben Allison
Since 2003 Allison has been routinely listed in the Downbeat Critics Poll in an extremely wide variety of categories including "Bassist," "Composer," "Rising Star Bassist," (ranking number 1 in 2005, 2006 and 2007) "Rising Star Album," "Rising Star Acoustic Group," "Rising Star Arranger," and "Rising Star Jazz Artist," all of which are a testament to his dedication as a musician.
Born in 1966 in New Haven, Conn., Allison has performed all over the world. He has appeared on more than 40 albums by various artists and has written music for film, national television and radio, including the theme for the National Public Radio show, "On the Media," which boasts a listenership of more than 1 million people per week, and the score for "Two Days," a play written by Pulitzer Prize-winning author Donald Margulies. He was also a featured artist with the Jazz Sinfonica Orchestra of Sao Paulo in 2005 and 2008.
This year's concert is set to take stage at 8 p.m. Feb. 28 in Baldwin Hall Auditorium. Allison will be featured beginning with the Jazz Lab and followed by the Jazz Ensemble. Tickets will be on sale at the door before the concert. They are free with a student ID and $8 for general admission.