International Percussion Artist and Composer to Visit Truman Nov. 12-14
Nebojsa Jovan Zivkovic, internationally renowned percussion artist and composer, will be visiting Truman's campus Nov. 12 -14.
Zivkovic is a native Serbian, but has studied and lived most of his professional life in Germany. He is considered by many to be one of the most influential and dynamic European percussionists/composers of our time.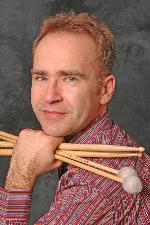 Nebojsa Jovan Zivkovic
His music has been performed all over the world by orchestras such as the London Symphony Orchestra, Chicago Symphony, Stuttgart Philharmonic, Munich Symphonic, Belgrade Philharmonic and the Lithuanian State Symphony Orchestra.
During his visit at Truman, Zivkovic will coach ensemble rehearsals, conduct master classes on percussion performance and history, as well as give lectures and presentations on composition, performance psychology and Serbian and Croatian music.
Zivkovic's music will be exclusively featured in a concert at 8 p.m. Nov. 14 in Ophelia Parrish Performance Hall. The program will include performances with the Truman Graduate Percussion Trio, as well as a world premiere for two percussionists with Michael R. Bump, associate professor of music.
Admission is free. For a complete schedule of events, please contact Bump at 785.4052 or at
mbump@truman.edu
.
Zivkovic's appearance is sponsored by the Truman Percussion Society and the University Funding Allotment Council. For more information on Zivkovic, please visit
http://www.zivkovic.de/
.