Siegel Named New AmeriCorps *VISTA Program Representative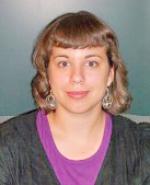 Eugenia Siegel was recently selected as the new AmeriCorps *VISTA program representative at Truman. She will be the Service-Learning Coordinator in the Center for Teaching and Learning.
Siegel, a graduate of Illinois Wesleyan University, said she was attracted to Truman because of its liberal arts mission. She was hired in August and succeeds Kelsey Aurand de Razo who recently moved into the University's Office of Admission.
As the service-learning coordinator, she will work with professors to structure classes that include service-learning assignments and serve as a resource for those carrying out the projects throughout the semester.
Siegel is also the contact for Service-Learning Advantage, a program that helps student organizations incorporate service-learning into their volunteer efforts and affords student participants recognition on their transcripts.
Informational meetings for the Service-Learning Advantage program will take place from 4:30-7:30 p.m. Sept. 9 in Georgian Room C of the Student Union Building and from 4:30-7 p.m. Sept. 11 in the Student Union Down Under.
These will be drop-in meetings, with presentations taking place at regular intervals. For more information, please visit
http://servicelearning.truman.edu
or contact Siegel at vistamember@truman.edu or 785.7753.
Truman is currently in the second year of this three-year program.