Pickler Memorial Library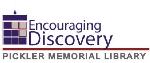 READ FROM HOME
You can read Pickler Memorial Library's electronic magazines and journals at home.
The instructions for how to connect your computer to the vast collections of electronic resources are located at the Pickler Memorial Library Help Page at
http://library.truman.edu/help/mainpage.htm
.
BOOK SALE
The 3rd Annual Book Sale is scheduled from 10 a.m. - 8 p.m. Sept. 23-25 in the Activities Room of the Student Union Building.
Donations are currently being accepted. For more information call 785.4038 or visit
http://library.truman.edu/booksale.htm
.