National Speaker to Address "Hook-Ups" of College Students and Community-Based Research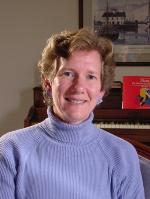 Elizabeth Paul will visit Truman on April 13-14 to deliver the Plenary Address and topical presentation at the 18th Annual Student Research Conference.
Paul will give her talk "Catching Feelings: The Emotional Realities of Hooking Up" at 3:30 p.m., April 13, in Violette Hall 1000.
"Undergraduate Research for the Public Good" is the topic of her Plenary Address at 11 a.m., April 14, in Violette Hall 1000.
Paul is an associate professor and chair of psychology and director of the Trenton Youth Community-based Research Corps at The College of New Jersey in Ewing.
She received her doctorate in personality psychology at Boston University. She conducts research on relational challenges of late adolescence and young adulthood.
Paul serves on the board of the Trenton Youth Services Commission.
She is an active advocate of community-based research as a powerful undergraduate pedagogical activity and as an agent of social justice and change. Paul and her students have worked on more than 20 research projects in service of the needs of more than 12 Trenton-area non-profit community agencies.