Students Present Cook Book to Food Depot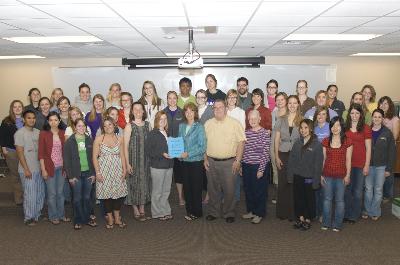 Students present a recipe book to board members of the Kirksville Food Depot (pictured front row, left to right) Erin Herbst, Amelia Ousley, Teak Nelson (instructor), Megan Burns, Debi Boughton (Food Depot board member), Don Kangas (Food Depot board president), Jeanne Kangas, Thiky Vorachek and Duyen Van; (second row, left to right) Bryan DeGuzman, Suoung Nguyen, Ashley Swain, Amanda Wilson, Kelsey Aurand de Razo (Americorps Vista), Jess Evelsizer, Rachel Tharp and Lauren Wilson; (third row, left to right) Veronica Gunter, Emily Schroeder, Emily Reinart, Lauren Schlesselman, Haley Hamlin, Karen Wohlberg, Jamie Menown, Lizzie Brown, Devon Mills, Kristin Kimrey, Erin Bonser, Jennifer Jackson and Sarah Thompson; (fourth row, left to right) Britney Snodgrass, Barbara Kuehny, Lindsay Walsh, Katie Hinrichs, Megan Laughter, Phil Hadwiger, Kristen Nissen, Ben Hainline, Theresa Weinhold, Laura Fienup, Jess Jacobi and Kelsey Mason. Students tried out all of the recipes they created or modified to ensure that the recipes are appetizing as well as simple and nutritious. After the quality-assurance phase passed, the students compiled the recipes and put them into a book format.
Truman State University nursing students in the Human Nutrition class presented a recipe book to the Kirksville Food Depot recently.
The students put their classroom knowledge to work this spring semester by working with the Kirksville Food Depot to create a recipe book to distribute to their clients.
The Food Depot is a consortium of churches that donate food on a rotating basis to the pantry and then distribute the food to families who are in immediate need of groceries. Due to its structure, the Food Depot is able to provide nearly the same ingredients and food items to each family every time. The students were given the list of these various ingredients and food items and were asked to create or modify a week's worth of recipes using the items on the list while demonstrating the nutritional value of the recipes. The project is an effort to provide nutritious, easy-to-make recipes to the lower-income families and ideally promote healthier eating habits.