Dixson and Cox Named 2008 Truman Nursing Acute Care Preceptors of the Year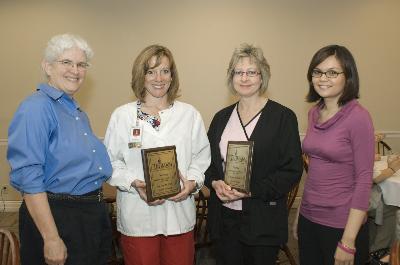 (Left to right) Sarah Delaware, Truman nursing faculty; Acute Care Preceptors of Year Dee Cox and Jo Dixson (NRMC); and Jenny Dine, Truman senior nursing student; gather following the awards luncheon May 1.
Truman State University's Nursing Program recently selected Jo Dixson, R.N., C.W.O.N., and Dee Cox, R.N., C.D.E., as its Acute Care Preceptors of the Year. Dixson and Cox were honored at an awards luncheon May 1 at Truman. Dixson and Cox are employed at Northeast Regional Medical Center in the Wound Clinic.
Dixson is a Certified Wound and Ostomy Care Nurse and Cox is a Certified Diabetic Educator. Both have served as preceptors for Truman nursing students for several years.
The Nursing Program at Truman selects highly qualified registered nurses to serve as role models, mentors and supervisors for senior nursing students in selected clinical areas of interest. These R.N. preceptors assist the faculty and students in meeting course objectives in the selected clinical areas. Each year faculty and senior students select and honor acute care and community preceptors of the year.
Contact Sarah Delaware and Stephanie Powelson from Truman's Department of Nursing at 785.4557 for more information.