Truman Foundation Honors Foudree, Truman Bookstore at Annual Banquet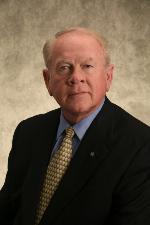 Charles M. Foudree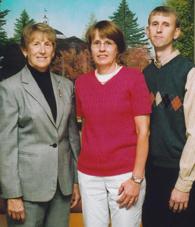 (Left to right) University President Barbara Dixon, Truman Bookstore Assistant Manager Kris Hurley and Truman Bookstore Manager Steve Pennington
The Truman State University Foundation will give special recognition to Charles M. Foudree and Truman Bookstore – A Barnes and Noble College Bookseller at its annual banquet set for 6:30 p.m. April 5 in the Student Union Building.
Alumni and friends who are also members of the University's John R. Kirk and Joseph Baldwin giving societies will also be honored at the banquet.
Foudree, a 1966 graduate and resident of Lee's Summit, Mo., will receive the President's Leadership Award. The award originated in 1998 and honors select Truman State University alumni and friends for meritorious service through gifts of volunteerism, expertise and financial resources.
During the past several years, Foudree's promotional efforts have directly influenced many of his fellow constituents to reconnect with their alma mater, become more involved, invest their resources and develop a deeper sense of appreciation for the work of the University.
He currently serves as chair of Truman's inaugural "Bright Minds Bright Futures" campaign, a $30 million student-centered initiative. Prior to that appointment, he served an eight-year stint as a member of the Truman State University Foundation Board. He has served as a member of the School of Business Board of Advisors, an Executive-in-Residence, and a member of the Kansas City Alumni Chapter. Foudree and his wife, Colleen, have endowed two named scholarships at Truman.
In 1998, Foudree was honored by Truman as its Alumnus of the Year.
Truman Bookstore – A Barnes & Noble College Bookseller will receive the Distinguished Corporation/ Foundation Award. Established in 2006, the award recognizes corporations and foundations for exemplary support to the University and its students.
Barnes & Noble College Booksellers operates more than 600 campus bookstores nationwide. In addition to providing textbooks, Barnes & Noble College Booksellers strives to create an engaging retail environment that offers students a place to relax, study, and build collegiate spirit through athletic apparel and custom-branded merchandise.
The company has operated the Truman Bookstore since 1986, with a history of support and impact has reached far outside the physical space of the bookstore walls. With more than $255,000 in support of Truman State University, Barnes & Noble College Booksellers has demonstrated their desire to be a financial investor in Truman. Their generosity has provided scholarship support, building projects such as the Magruder Hall renovation/expansion, the current renovation of the Student Union Building, and the Kohlenberg Lyceum Series.